Press
TV Guide Reports New Season 2 Cast Member; UGO on Dr. Jenner's Whisper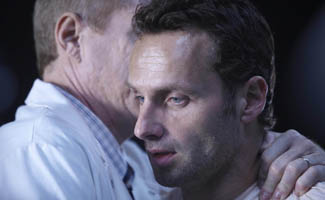 This week TV Guide reports on new Season 2 Casting while UGO begs to know what Dr. Jenner whispered to Rick and Poptimal talks up the show ahead of its October premiere.
• TV Guide reports that Rescue Me's Michael Zegen has been cast in The Walking Dead as Randall, a character that doesn't appear in Robert Kirkman's comic book series.
• UGO points to The Walking Dead in its list of TV cliffhangers it wants resolved: "What did Dr. Jenner whisper in Rick's ear?"
• Poptimal's fall TV preview asks, "Who isn't looking forward to the return of The Walking Dead? The actors are great, the make-up and special effects are superb, and it already has a solid story line thanks to the comic series."
• Variety reports that The Walking Dead and that he also has a first-look deal with AMC. The Hollywood Reporter and Deadline also had the news. Zap2it calls this "good news for fans of the zombie hit. Nicotero's creative stamp is all over the look-and-feel of the show."
• MovieViral "can't wait" for the six The Walking Dead webisodes directed by Greg Nicotero that will be available on AMCtv.com starting Oct. 3.
• Macon.com thinks Laurie Holden was robbed of a best drama supporting actress Emmy nomination for her role in The Walking Dead.
• Shock Till You Drop features a video interview with Bear McCreary, who shares that he's "pushing myself to write the most dissonant and horrific, terrifying music that I can" for Season 2. UPI reports that McCreary will appear at a Freddie Mercury tribute concert in November in Los Angeles.
• The Los Angeles Times cites The Walking Dead in an article about microscopic viruses ("the biggest bad guys in Hollywood") as the new movie and TV villain.
• The Las Vegas Review-Journal mentions The Walking Dead in its discussion of the zombie phenomenon.
• BuzzFocus highlights a new The Walking Dead behind-the-scenes video on zombie wardrobes.
• Emily Van Camp, now starring in ABC's Revenge, thinks "The Walking Dead is the greatest thing, the greatest television show, I think, in a long time."
• CultureMob reports that Norman Reedus, Jon Bernthal and Melissa Cowan (Bicycle Girl) will appear at Seattle's ZomBCon 2011 next month.
• Cinema Blend says there will be a "massive" panel for The Walking Dead at October's New York Comic Con.
Read More