Press
TV Guide Hails Season 2's Gore; Rolling Stone on Andrew Lincoln's Rick Grimes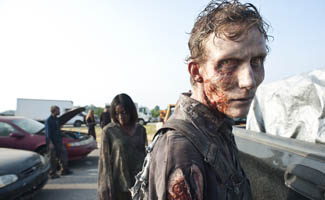 This week publications like TV Guide, E!, IGN, HitFix and the Philadelphia Inquirer praise the Season 2 premiere episode, while Rolling Stone details the brilliance of Andrew Lincoln's depiction of Rick Grimes.
• Rolling Stone compliments Andrew Lincoln's portrayal of Rick Grimes because Grimes is "a nice guy called on to do brutal things, and he loathes himself for getting so good at it." (No Link)
• TV Guide says of The Walking Dead, "the excellent Season 2 premiere is as much gory, intense fun as anything the show has done to date. Just be sure to keep your barf bag handy."
• E! saw The Walking Dead's season premiere and concludes, "The Walking Dead appears to be in very good hands. (Even if some of those hands are covered in blood and zombie guts.)" IGN thinks the premiere is "a strong episode that definitely had me very anxious and excited to see what comes next." HitFix calls it "a mighty tense block of television."
• The Philadelphia Inquirer includes The Walking Dead on its list of the 11 best returning shows: "Critics get DVDs of shows to watch in advance. This zombie-fest is so elegantly gruesome, I'll wait until the hi-def version gets to TV."
• The Kansas City Star includes The Walking Dead on its list of "Stuff I Like (Right Now)": "This is the other best show on TV."
• The Daily Beast features The Walking Dead in its fall TV preview gallery, noting, "The zombies are still scary."
• E! reports that The Walking Dead's Season 1 premiere, "Days Gone Bye," won a Creative Arts Emmy last weekend for outstanding prosthetic makeup for a series, miniseries, movie or a special. In a preview of the awards, NPR notes that The Walking Dead's aesthetic is due as much to the prosthetic makeup team as to the writers and actors: "Without the makeup, there are no zombies, and without zombies, it's just The Walking Tired."
• Robert Kirkman previews The Walking Dead's Season 2 premiere to TVLine, noting "I think we cross some lines in this first episode. Let me be honest, it's definitely a little more visceral than we've gotten in the previous season."
• About that whisper… Robert Kirkman tells TVLine that viewers will find out what Jenner said to Rick sometime during Season 2: "We understand that there are different [questions] that TV shows will tease out for a very long time [and] how that sometimes becomes a little boring and wears out its welcome. We're definitely not going to do that."
• FEARnet speaks with Glen Mazzara, Gale Anne Hurd and Robert Kirkman; Hurd shares that Mazzara "has the ability to keep everyone calm and things running well. He's a great storyteller, and he is very character-oriented."
• The Walking Dead's pilot episode appears on io9's list of TV pilots that could be movies and is described as "a perfect nugget of creepy television."
• The Associated Press mentions The Walking Dead while wondering if American optimism is a thing of the past: "Forlorn narratives like Rise of the Planet of the Apes, the zombie apocalypse drama The Walking Dead and Cormac McCarthy's The Road dominate the American futurescape."
• Zap2it calls The Walking Dead's Season 2 poster "totally terrifying." Dread Central "cannot wait to see events play out!" TV Guide wonders why Rick is all alone in the poster.
• Jon Bernthal, Norman Reedus and Emma Bell will sign autographs this weekend at Maryland's Monster Mania, Hollywood Soapbox reports.
• El Paso, Texas' KTSM reports that The Walking Dead's titular "Vatos" — Neil Brown Jr., Anthony Guajardo, James Gonzaba and Noel G — were set to appear at El Paso Comic Con last weekend.
• Big Shiny Robot reports that Sean Patrick Flanery would choose Norman Reedus, his The Boondock Saints co-star, if you want "a good time on set."
Read More