Press
EW Laments The Walking Dead's Emmy Snubs; AP Praises Season 2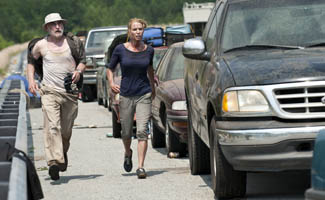 This week Entertainment Weekly thinks The Walking Dead was snubbed by the Television Academy of Arts and Sciences while the Associated Press and the critics from TV Guide and Entertainment Weekly react favorably to advance screenings of the Season 2 premiere.
• Entertainment Weekly's annual feature on actors and series overlooked by the Emmys includes The Walking Dead: "AMC. Zombies. Need we say more?"
• The Associated Press has previewed The Walking Dead Season 2 premiere and promises the show "remains full of life." The New York Post thinks the new season is "just sickening — and you'll love every minute of it as much as I do." (No Link)
• TV critics took to Twitter with their reactions to a screening of the Season 2 premiere.TV Guide's Matt Roush calls The Walking Dead's premiere "intense, graphic, xcellent," while TVGuide.com's Adam Bryant thinks it may make the fans "puke" and Entertainment Weekly's Dalton Ross advises viewers to ready themselves for the show's "most grosstastic scene yet."
• The 2011 Scream Awards nominations have been announced, and AMC's The Walking Dead garnered six of them, including Best Scream, which the Los Angeles Times calls the "monster category of the night." Andrew Lincoln, Sarah Wayne Callies, Laurie Holden and Jon Bernthal also got acting nods.
• Geeks of Doom provides video from last weekend's The Walking Dead panel at Atlanta's Dragon*Con 2011, which featured cast members such as Jon Bernthal, Laurie Holden and Steven Yeun.
• The Plain Dealer and the Detroit News include The Walking Dead in their lists of what's coming up on cable TV.
• CNN's fall TV preview mentions the proliferation of horror shows and credits The Walking Dead for creating "a flurry of interest in things that go bump in the dark."
• Boomtron takes a look at The Walking Dead's behind-the-scenes video about zombie eyes, noting "the prosthetics team behind the zombie make up has learned a thing or two on how to make someone look particularly gruesome." Dread Central checks out the same video, concluding "everything we've seen so far from the upcoming Season 2 of the show has been encouraging."
Read More