What You're Saying About Rick Finding Out About Lori and Shane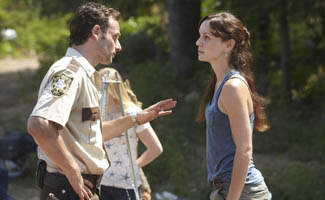 The commenters this week addressed one of the pressing questions from Season 1: How will Rick discover that Lori and Shane had an affair, and what will the fallout be?
• "I think, in the show, Rick found out before they left the CDC. Just before they escape the doctor whispers something in Rick's ear… I think that Lori is pregnant and the doctor told Rick." — Jetta Jim
• "Rick walks into a conversation again, between Shane and Lori. And Shane tells him blunt out. We will have to see, though." — rubster
• "[Lori] got herself backed into one hell of a corner and so does Shane. He messed around with his best friend's wife for Heavens sakes! There's bound to be a huge fight coming." — RiverBoatQueen
Log onto the Talk forum to join in any of these conversations or start a topic of your own.
Read More