What You're Saying About Photos From the Comic-Con Twitter Contest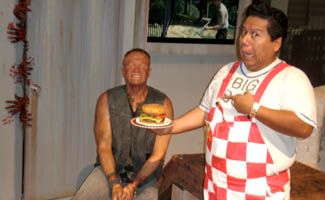 Last week AMCtv.com posted photo submissions from the Where's Merle? Comic-Con Twitter Contest, much to the delight of Talk forum commenters who discussed their favorites.
• "Guy reaching for Comic-Con badge is the best!" — Elena Riemersma
• "Comic-Con pass more important than saw is my fav pic. But pretty much any of them that have random people in the background make me laugh." — Jacquelynn Stansell
• "I LOVE YOU MERLE. PLEASE COME BACK!" — Skylar Lakin
• "Nothing beats a dead Pooh!!! He's soooo dead." — P.j. Shine
Log onto the Talk forum to join in any of these conversations or start a topic of your own.
Read More