Press
Kirkman Teases Season 2 to USA Weekend; Lincoln Talks Rick's Dilemma With Wired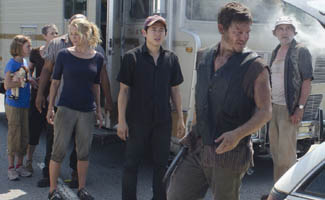 USA Weekend gets Season 2 tidbits from Robert Kirkman this week, while Andrew Lincoln talks apocalyptic morals with Wired and Hollywood.com nominates The Walking Dead and Laurie Holden for their "Alterna-Emmys."
• Robert Kirkman tells USA Weekend that Season 2 is "going to be much more rural and much more dangerous."
• Wired talks to Andrew Lincoln about Rick's moral dilemma: "Do you survive at all costs and lose your humanity because it's the only way to do it, or is humanity — does it have to exist because otherwise you may as well just blow your brains out?"
• Hollywood.com chooses The Walking Dead ("an innovative, outstanding adaptation") and Laurie Holden ("a monument to dramatic acting") for its "Alterna-Emmys."
• Dread Central has video of Steven Yeun (Glenn), Michael Rooker (Merle) and Andrew Rothenberg (Jim) appearing at the 2011 Flashback Weekend Chicago Horror Convention in an "extremely candid" panel.
• Bloomberg Businessweek references The Walking Dead in its zombies vs. vampires showdown, declaring "zombies are threatening to overtake vampires in the battle for cult paranormal undead hegemony."
• The Chicago Tribune interviews The Walking Dead's Melissa Cowan, who played "Bicycle Girl" in Season 1.
• MTV picks up AMCtv.com's interview with The Walking Dead cinematographer David Boyd, who will be directing Episode 7 of Season 2.
• The Atlanta-area Newnan Times-Herald reports that filming for The Walking Dead took place in downtown Sharpsburg earlier this week, though there was "no word on whether any zombies were spotted in town."
• Ryan Murphy, the creator of Glee, tells the Los Angeles Times that The Walking Dead was his favorite show last year, calling it "sort of intellectual horror."
• Schock Till You Drop has a trailer for Faces in the Crowd, a thriller featuring Sarah Wayne Callies.
Read More