Lincoln Promises Digital Spy a Bloody Season 2; Bloody Disgusting Excited for Webisodes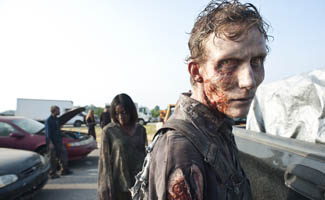 This week Bloody Disgusting reports on news that Greg Nicotero will helm a series of The Walking Dead webisodes for Season 2, while Digital Spy chats with Andrew Lincoln about the bloody, sweaty and monster-filled second season.
• Bloody Disgusting has news that a series of The Walking Dead webisodes are currently in production under the direction of Special FX Makeup Artist Greg Nicotero. "Shooting next month," the site describes, "the webisodes follow Hannah and her children who take shelter in her ex-husband's house from a horde of zombies." Crave Online also reports on the webisodes.
• Digital Spy has Andrew Lincoln promising of The Walking Dead Season 2, "It just gets more and more dirty and sweaty and bloody, and monster-filled."
• IGN chats with Andrew Lincoln, Sarah Wayne Callies and Jon Bernthal about the Shane/Rick/Lori love triange at Comic-Con. Says Bernthal, "It's a real kind of family dynamic where we rely on each other, and we mean so much to each other, and we tear each other apart."
• The Detroit News chats with Steven Yeun, who discusses Glenn's Season 2 romance: "I love the idea that someone who didn't really have a lot to live for has so much more to live for, and it's going to be awesome."
• Comic Book Resources reports from a Robert Kirkman Q&A at Comic-Con in which Kirkman addresses The Walking Dead characters' mortality: "Bad things have been happening to the characters since the very first story arc. It's going to continue to get worse."
• AgencySpy has a look at the body-stuffed The Walking Dead truck that made the rounds at this year's Comic-Con.
• Georgia's Newnan Times-Herald reports a sighting of The Walking Dead Season 2 production while the crew filmed in downtown Sharpsburg: "Filming drew a crowd of spectators ultimately hoping to catch a glimpse of a zombie — although Monday's filming was zombie-free."
• DreadCentral spotlights AMCtv.com's video recap of The Walking Dead Comic-Con panel and How to Kill a Walker video. Of the latter the site warns, "Viewer discretion is advised."
• WhatCulture! retroactively reviews The Walking Dead Episode 3, "Tell it to the Frogs," declaring, "The real highlight of this episode is the revelation of Norman Reedus' performance as Daryl Dixon."
• New Zealand's Nelson Mail declares that The Walking Dead is "so well made that it's easy to just sit back and enjoy the running, screaming and munching."
Read More