Uncategorized
Dispatches From the Set – Cinematographer and Director David Boyd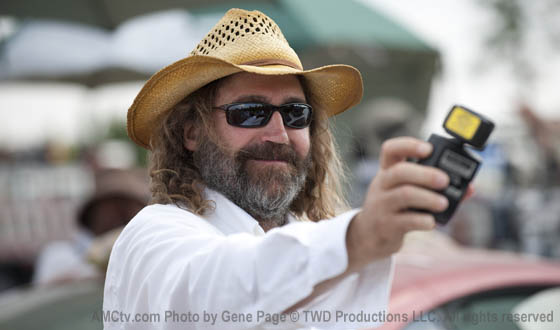 David Boyd, The Walking Dead's Season 1 Cinematographer describes putting on the Director's hat for Season 2 and explains what Hershel's farmhouse has in common with a crocodile. New Dispatches From the Set are released every week throughout the production.
Q: Tell us about the episode you'll be directing. What's it like to switch from cinematographer to director?
A: For me it's the same process, same prep, same thought. This'll just have me talking to the actors a bit more. Episode 207 is cool in that we see that Andrea, this girl can shoot, man. And then Lori, she's kept her s— together through Rick getting wounded and all that stuff, but she's starting to come apart a little bit and by the end of the episode she and Rick put it all out there. As functional as you can be in the apocalypse, these two are going to be equals.
Q: Sounds like a mix of action and emotion. Which do you find more challenging?
A: I don't know. I like both, you know? I guess I'm more familiar with the action part of it. But I've always been aware of what actors are doing when, and what their moments are so that I have some way to see it. But this time around I actually get to participate in it with them — get to talk to them, get to adjust them and listen to what they have to say. It's a great ensemble bunch and about half way through last season everybody realized we weren't "actor" and "crew" — we were all human beings trying to stay cool. [Laughs] Surviving our own apocalypse, really.
Q: What have you learned about surviving the apocalypse then?
A: Coppola did Apocalypse Now, and he took the film to Cannes and someone said to him, "I hear your film is about Vietnam." And he said, "No, my film was Vietnam." [Laughs] That's the way it feels here, man. You cannot describe what it's like to do what we're doing in the conditions that we are. We hate it but there's always enough to bring it back because we love it. And people have different ways of coping with that. We each have our own 7-foot bubbles and have an entirely different universe to deal with, so someone can be standing in a chigger pile and a few feet away someone else can be eating a donut.
Q: From a photography standpoint, what horror opportunities does Hershel's farmhouse offer?
A: You know I've grown to think of these structures — the house and the barn — as anthropomorphic. They have spirits, is how I've approached photographing them. You look at the house and I try to make that thing look vicious. I try to give it eyes and a nose and see what expression it might be feeling. And Greg Melton designed a barn that you'd swear is alive. It's got two hayloft windows up above for eyes, there's a little central thing to pull hay in that looks like a nose and the barn doors themselves are a mouth. And by God I make sure the farmhouse looks like it's alive. I'll give the upstairs windows a little glimmer as if this thing is lifting its eyelids, and looking out like a crocodile.
Q: What does that make the barn?
A: That's something else. What would that be? A rattlesnake.
Q: How has the language of how you photograph The Walking Dead changed over the two seasons?
A: Where I find myself being aware of a feeling that's unique to this show is when I start to see that there is action taking place that's more important in that instant than what's being talked about. Your attention gets drawn to somebody who's having some behavior or some thought that's separate from what's being focused on. And that comes from the comic book: big things in the foreground with our characters little in the background. You jump around angles and you look around and all of a sudden this guy is thinking that, and I wonder what that other guy must be thinking? I find the uniqueness of this show is the subconsciousness of absorbing what each character is going through. And when we see that told in an image, that's when I think we've really done it well.
Q: There's a scene in Season 2 that takes place on a high school football field. Did that give you any flashbacks to your work on Friday Night Lights?
A: You know it did. I looked at the field and just thought of how many days and months I spent on football fields. We came out at night and it was foggy, lights were just coming up that gave it a creepy light, and I thought, "My God, this is like an echo of where I've been."
Q: Did you borrow any tricks from that series for The Walking Dead?
A: Not for that scene. But the stuff that came out of Friday Night Lights to me was, we didn't rehearse on that show and we didn't put marks down and actors knew that they could go anywhere and play. And that aspect of it I think is really valuable for performances. From a camera standpoint I try to make sure everybody on The Walking Dead knows they can play — they can turn it on and let's see what happens, and we'll make sure nobody falls. We'll catch 'em.
Click here to read an interview with David Boyd's fellow Season 2 director, Ernest Dickerson.
Read More