What You're Saying About the Season 2 Trailer from Comic-Con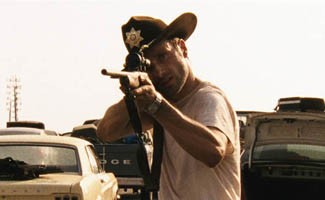 The Walking Dead's four-and-a-half minute Season 2 Trailer that was screened at Comic-Con last week had the Talk forum buzzing with excitement. Here's what commenters had to say about the brief glimpse of the upcoming season.
• "I feel like a little kid wanting candy. I cannot wait until October!" — britanniewalker
• "Looked like Rick was going to Hershel's farm at the end. Cool!" — Sean Bowen
• "Looks amazing! And to think that this footage is only from the first few episodes!" — Djeffe77
• "I have chills I am so excited — can't wait!" — Bucket75
• "All I can say is OHMYGOD!! OHMYGOD!! OHMYGOD!!!" — Hendry Betts III
Log onto the Talk forum to join in any of these conversations or start a topic of your own.
Read More