What You're Saying About the Season 2 First-Look Video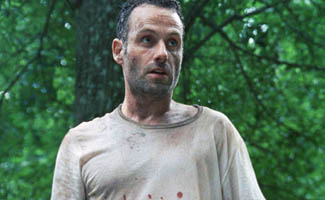 Commenters this week were abuzz about The Walking Dead Season 2 First Look video that aired during Breaking Bad's premiere. For some it was the perfect taste to sate their zombie-bashing hungers; for others it was a bittersweet tease. For everyone, October can't come soon enough.
• "It was a great sneak preview. Something new seen? Check! Nothing spoiled? Check." — Rick Wiles
• "Loved the way he threw that rock at 2nd walker like it was a baseball." — Tim Riley
• "Looks more like the Rick we saw in the comic books… hell yes." — Michael English
• "Alone, out of ammo, armed w/only a rock, stalked by walkers… OK, come on, October; let's get to it!" — Becca Collins
Log onto the Talk forum to join in any of these conversations or start a topic of your own.
Read More