What You're Saying About Comic Creator and Series Executive Producer Robert Kirkman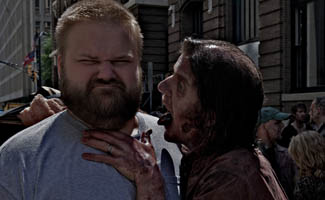 Fans this week reflected on a recent on-set interview with Executive Producer Robert Kirkman and sang the comic creator's praises for helping bring The Walking Dead to life.
• "I love the creator of The Walking Dead. Love you, you're the very best." — Joy de Ramos
• "Wow, and here I thought Matt Lauer had a cool job. Robert Kirkman is the Kirk-man!" — Sean217
• "I love The Walking Dead and hope that it stays on for a long time. 'KUDOS' to Robert Kirkman." — Marcus Clinkscales
Log onto the Talk forum to join in any of these conversations or start a topic of your own.
Read More