Press
FEARnet Predicts Emmy For Nicotero; E! Is Eager for The Walking Dead at Comic-Con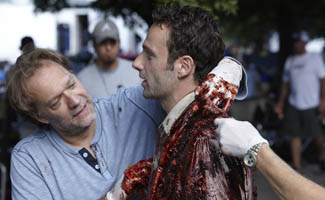 This week FEARnet predicts an Emmy win for Special Effects Makeup Artist Greg Nicotero, while the build-up surrounding The Walking Dead's Comic-Con presence is reaching a crescendo.
• FEARnet is talking The Walking Dead Emmys: "The Walking Dead naturally picked up a nomination for prosthetic makeup. And really, who could possibly beat Greg Nicotero?"
• E! Online is psyched to geek out on The Walking Dead Comic-Con panel: "Not only will we get to see the oh-so-handsome Andrew Lincoln in living color, but we no doubt will get some awesome footage of season two." Entertainment Weekly is sure The Walking Dead is a panel "people will be talking about on Twitter," and it's one of Television Without Pity's top 10 panels not to miss. "You had us at 'zombie,'" USA Today says of The Walking Dead panel.
• Dread Central has a look at The Walking Dead's "killer new booth" at Comic-Con.
• Entertainment Weekly highlights The Walking Dead's banner poster for Comic-Con, commenting, "Zombies love them a good Winnebago!" MTV thinks Norman Reedus' inclusion in the poster "implies that big things are ahead for everybody's favorite Dixon brother."
• Robert Kirkman teases to E! Online: "I'm hoping that the television show will quickly gain the same reputation that the comic book has for being fairly bold and playing like no one is safe." Kirkman also talks Season 2 to The Hollywood Reporter: "The second season is about zombies in the woods and what's behind that next tree. It's a much more rural setting."
• Robert Kirkman tells USA Today that Rick Grimes is no hero: "He's a father who's doing whatever he can do to make sure he and his son survive. The reality is that there's nothing heroic about that. It's completely self-centered when you get down to it."
• Sarah Wayne Callies talks to her hometown paper, the Honolulu Star-Advertiser, about Season 2: "The story this year is not for the faint of heart, nor are the shooting conditions, but right now there is nowhere else on Earth I would rather be."
• HifFix reports that The Walking Dead is up for a Teen Choice Award, in the "Choice TV: Breakout Show" category.
• The Hartford Courant calls The Walking Dead's Season 2 first look "brutal and blunt." SFX advises of The Walking Dead, "Zombies of a nervous disposition may want to avert their eyes." Den of Geek says it "gets right back into some new, wholesome zombie slaying." According to MTV, Lost's Damon Lindelof joked about The Walking Dead in a tweet: "Dug the WALKING DEAD SEASON 2 tease — But Rick woulda been screwed if those zombies had brought paper."
• Cinema Blend touts Greg Nicotero: "His work on The Walking Dead so far is nothing short of magical…and with a bigger season and bigger budget, I can only imagine what he might have in store for us." Monsters and Critics heaps praise upon Nicotero's "brilliant special effects makeup work."
• The Walking Dead composer Bear McCreary tells Bloody Disgusting about composing the "deeper score" for Season 2 that "will start commenting in a more emotional way."
• The Walking Dead Season 1 is airing in New Zealand, and the New Zealand Herald calls it "Braindead telly at its finest."
Read More