Press
Collider Interviews Darabont and Hurd; Kirkman Discusses Violence With Wired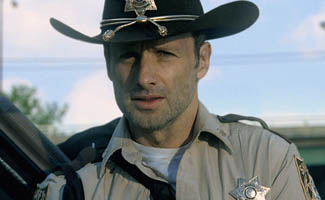 This week Frank Darabont, Gale Anne Hurd and Robert Kirkman are talking Season 2 with various publications while TV Guide reports on casting rumors for the new season.
• Gale Anne Hurd and Frank Darabont sit down with Collider.com for a wide-ranging discussion, including how Darabont loves all the characters: "I really care about them all and I really hate that we've killed some of them. I feel dirty when I do it."
• Frank Darabont reveals to FEARnet that Michonne will definitely join the show in Season 3. What of Stephen King writing an episode? "It'll happen eventually, I'm sure," he adds.
• Robert Kirkman chats with Wired and shares, "I feel like The Walking Dead has become more violent because I have kids."
• TV Guide reports on The Walking Dead Season 2 casting rumors, which have actor Scott Wilson cast as Hershel Greene and Lauren Cohan as his daughter Maggie. ShockTillYouDrop.com thinks Wilson's casting is "a stroke of awesomeness."
• The Walking Dead is one of The Hollywood Reporter's contenders for a best drama Emmy. The article states, "so few dramas had the kind of edge-of-the-seat worry that Dead cranked out each week."
• Deadline handicaps The Walking Dead's chances for an Emmy win, noting that the "much-talked-about first season should assure it a nomination," though Frank Darabont says, "too often, the horror genre gets short shrift."
• Gold Derby also thinks The Walking Dead has a "good chance" at a best drama Emmy nomination.
• Digital Spy thinks Andrew Lincoln deserves an Emmy nod: "We think that the emotional intensity of his performance over six fantastic episodes deserves plaudits."
• The Walking Dead won a Saturn Award for best television presentation, while Frank Darabont was honored with the George Pal Memorial Award. Darabont tells SFX, "I think this might be the coolest award I've ever gotten."
• The U.K.'s TVChoice Awards has nominated The Walking Dead as Best New Drama, up against Downton Abbey, Sherlock and Single Father.
• UGO wonders what The Walking Dead's Comic-Con panel is going to look like, echoing recent casting rumors in asking, "could we expect visits from Pruitt Taylor Vince, Scott Wilson, or the lovely Lauren Cohan?"
• Ireland's RTÉ reviews The Walking Dead Episode 5 noting, "There were enough unexpected twists and a dramatic lead up to the final scene to keep episode five rolling."
• The Los Angeles Times reports that Gale Anne Hurd has been elected to the Academy of Motion Picture Arts and Sciences' Board of Governors.
Read More