Photos
Your First Look at AMC's The Walking Dead Booth at Comic-Con 2011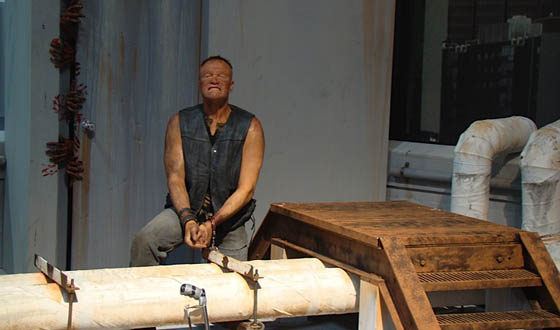 San Diego Comic-Con 2011 kicked off with a press preview night tonight, Wed., Jul. 20, and AMCtv.com was on the scene to deliver you a first look at this year's The Walking Dead Comic-Con booth. The booth faithfully recreates a key scene from Season 1 and finds a Merle Dixon replica (courtesy of Special FX Makeup Artist Greg Nicotero and his KNB EFX Studios) chained to the department store rooftop moments before he cuts off his own hand. The walkers, meanwhile, actively shake back and forth at the door, moaning as Dixon desperately pulls at his handcuffs.
Lucky Con attendees will have a chance to make the same choice as Merle, pretending to cut off their own hand for a photo op. Those who post the photo to Twitter with the hashtag #WheresMerle will then be entered in a sweepstakes to win a personalized zombie bust. (Click here to learn more about the Where's Merle Twitter Contest.) Want to see more of the booth right now?

Click here to see a map and schedule of The Walking Dead's at Comic-Con 2011.
Read More