What You're Saying About The Walking Dead Action Figures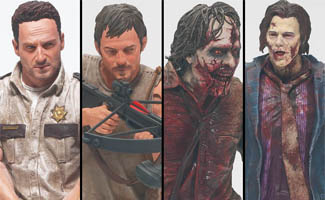 Last week fans got an up-close look at McFarlane Toys' The Walking Dead action figures of Rick Grimes, Daryl Dixon, Zombie Walker and Zombie Biter. This week, commenters are marveling at their detail and adding them to their wish lists.
• "Wow, move over Spawn. Those are the best figs McFarlane Toys has produced yet, and they've made some great ones. Daryl's likeness and the play-action features are amazing! But nothing beats the string of squirrels. I'm nuts for them." — Sean217
• "The squirrels are hysterical! I'd like to see what McFarlane Toys could do with 'Bicycle Girl'!" — Horsecam
• "Why must I wait until November to buy these? I want em now!" — Nick Santana
• "Wow, usually action figures look really bad.. these ones are really good, I might even buy them." — Mark Harris
Log onto the Talk forum to join in any of these conversations or start a topic of your own.
Read More