What You're Saying About Writer-Director-Producer Frank Darabont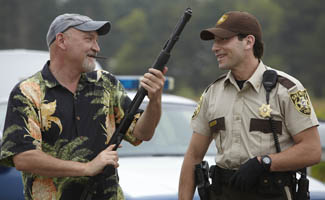 The fans sounded off this week about The Walking Dead's Oscar-nominated writer, director and executive producer Frank Darabont, upon whom the show's cast and crew heaped praise in a recent blog post and who at least one commenter credits with the inspiration to form his own post-apocalyptic preparedness plan.
• "Frank was the reason I built a zombie safe-house, equipped with a generator, food and water, weapons, satellite phones, season one of The Walking Dead on Blu-ray, the Diamond edition of Scrabble, and a keg fridge. Without him, I'd be one of those things trying to get inside right now." — Sean217
• "I saw Frank Darabont interviewed on Carson Daly — great interview and made me love this show even more!" — Monica Solorio-Snow
• "One of the greatest TV shows ever AND Frank Darabont made The Mist, one the greatest horror movies ever. What a guy!" — Terry Walker
Log onto the Talk forum to join in any of these conversations or start a topic of your own.
Read More