Press
Frank Darabont Chats With Hollywood Reporter; TV Guide Touts Rick Grimes Action Figure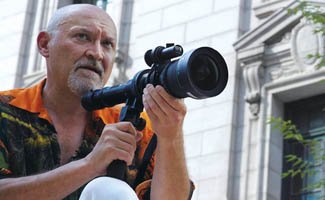 As a possibly Emmy nominee, Frank Darabont talks to The Hollywood Reporter about The Walking Dead and what it's like directing for TV, while TV Guide describes how Andrew Lincoln lent his face for the Rick Grimes action figure.
• To The Hollywood Reporter, Frank Darabont, a possible Emmy directing nominee, says directing for TV as opposed to film is "like playing jazz — you just dive in and let the ragged edges show."
• TV Guide reports that Andrew Lincoln "really got into it" when helping McFarlane Toys get the Rick Grimes action figure exactly right. AMCtv.com has photos of all The Walking Dead action figures.
• The Atlanta Journal-Consitution has a shot of Shane (Jon Bernthal) running down a street during filming, as well as a few looks at some zombies, while Patch has one of Shane preparing for a fight scene. MyFoxAtlanta has a story about The Walking Dead production as well.
• Michael Rooker describes Merle to Canada's QMI Agency: "He's brash, aggressive, racist, sexist, ugly, a loudmouth, dirty-mouthed kind of guy, and he's higher than a kite on cocaine."
• The Killing's showrunner, Veena Sud, tells The Hollywood Reporter that The Walking Dead "takes this horror genre and does something different with it." (No Link)
• The Baltimore Sun examines why The Walking Dead and other series featuring the undead are gaining traction with audiences.
• Entertainment Weekly asks if viewers "would champion The Walking Dead" for an Emmy nomination. Gold Derby wonders if The Walking Dead "may prove too big for Emmy to ignore" despite its gory zombie subject matter.
• Airlock Alpha reports that The Walking Dead received two Portal Award (formerly known as the SyFy Genre Awards) nominations for best television series and best actor (Andrew Lincoln).
• Daemon's TV puts The Walking Dead's theme song in its top five, saying it portrays "the fear and desperation that the series itself presents."
• Screen Rant says The Walking Dead is slated to return to San Diego Comic-Con next month.
• Steven Yeun and Chandler Riggs will be at Atlanta's Dragon*Con in September, says the Atlanta Journal-Constitution. Meanwhile, The Philadelphia Daily News has Riggs appearing at Wizard World Philadelphia Comic Con this weekend and Dread Central reports Jon Bernthal and Norman Reedus will show up at Worcester, Mass.'s Rock and Shock 2011 convention in October.
• The men behind MTV's Teen Wolf series tell Collider that Greg Nicotero is doing the make-up for the show.
Read More