Photos
Sneak Peek – The Walking Dead Issue 86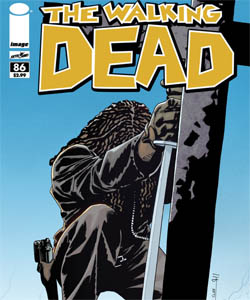 The 86th installment of Robert Kirkman's Eisner-winning comic book series hits stands this Wed., Jun. 29, but you don't need to wait until then to find out what happens next. AMCtv.com hereby presents the first seven pages of the latest issue of The Walking Dead comic, in which the survivors face the aftermath of the roamer attack and wonder how to deal with what comes next.

Need to catch up? Image Comics is reprinting single issues of The Walking Dead at the rate of one issue per week all year long. Click here to learn more about The Walking Dead Weekly.
Dig even deeper into The Walking Dead at the Skybound Shop, where you can buy trade collections, hardcovers, deluxe editions and more. Click here to visit the Skybound Shop.
Read More