The Walking Dead's Stars Are Back With This Summer's Movies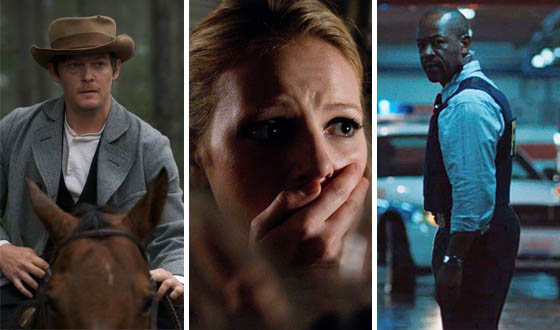 Summer is here, and for most people the season conjures images of blissful days in the sun, cold glasses of lemonade and hot barbecues. For The Walking Dead fans, however, the scorching days are a stark reminder that there are still months to go before the Season 2 premiere. Don't sweat it. The cast of The Walking Dead is appearing in a spate of summer movies guaranteed to quench your thirst for more.
Norman Reedus, The Conspirator
In Theaters: Currently
The latest offering from Sundance maven Robert Redford is The Conspirator, a period epic detailing the assassination of Abraham Lincoln. Norman Reedus is back playing a troubled Southerner like Daryl. Here he's Lewis Payne, the man hanged for trying to murder the U.S. Secretary of State.
Michael Rooker, Super
In Theaters: Currently
Not to be outdone by his on-screen little brother, Michael Rooker is also playing not-so-nice at the movies this month, in IFC Films' Super. In it, Rooker plays Kevin Bacon's crime boss henchman Abe, who spends the flick trying to thwart Rainn Wilson's vigilante superhero.
Noah Emmerich, Super 8
In Theaters: June 10
Director J.J. Abrams is keeping a tight lid on his alien epic about small-town kids who witness an other-worldly train crash in the '70s. What is known is that The Walking Dead's Dr. Jenner — Noah Emmerich — is on the case. He's playing a Colonel Nelec, a man who hopes to have better luck dealing with a crisis than Dr. Jenner did with the zombie apocalypse.
Adrian Kali Turner, Bad Teacher
In Theaters: June 24
This raunch-com finds foul-mouthed Cameron Diaz teaching middle school kids while trying to seduce substitute teacher Justin Timberlake. In her ill-fated class is none other than Adrian Kali Turner (a.k.a, Morgan's son Duane). Watch a clip as he gets into a shouting match with gym teacher Jason Segel over whether LeBron James is the next Michael Jordan.
Emma Bell, Final Destination 5
In Theaters: August 12
The actress who plays Amy knows better than anyone that you can't cheat death: Even as a resurrected walker she's around only long to hear Andrea say "I love you." So it's fitting that Emma Bell is starring in the fifth installment of Final Destination. In it she plays Molly, whose boyfriend Sam has a premonition about a disaster on a bridge. How long can he save her life?
Lennie James, Colombiana
In Theaters: September 2
Wondering where the man behind Morgan has been since sniping walkers from a bedroom window? Turns out, he's been hunting a stone-cold assassin as Special Agent Ross in Luc Besson's Colombiana. This cat-and-mouse thriller caps off the summer as Zoe Saldana kills scores of people while James pursues her. This time he won't use a shovel.
Read More