Press
Gold Derby Mentions Lincoln in Emmy Race; TV Squad Wants More Screen Time for Andrea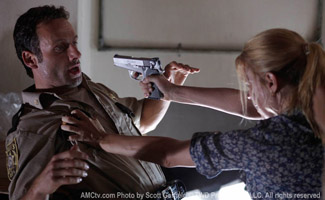 Gold Derby speculates that Andrew Lincoln is a potential Emmy nominee for best actor and TV Squad campaigns for Laurie Holden's "kick-butt" Andrea to get more screen time. Meanwhile Robert Kirkman is set to be the guest of honor at New York Comic Con and Gale Anne Hurd is talking transmedia and The Walking Dead.
• Gold Derby discusses the best actor Emmy race and puts Andrew Lincoln on the list of those "hoping for their first Emmy recognition."
• Laurie Holden's Andrea makes TV Squad's list of characters who deserve more screen time, noting, "it's time for Andrea to become the kick-butt woman she is in the comic book series."
• Robert Kirkman will be the guest of honor at New York Comic Con in October, according to a press release from the event.
• The Alternate Reality Gaming Network covered a panel featuring Gale Anne Hurd, who discussed transmedia expectations for The Walking Dead. She'll also participate in a discussion on producing motion picture franchises at next month's Produced By conference, Deadline reports.
• Hurd is also producing two action films on Lifetime's 2011-12 programming slate, according to The Hollywood Reporter. Daemon's TV reports that the films are Last Man Standing and Malibu Heist Club.
• CNET reports that Vudu has added The Walking Dead, in HD, to its streaming service.
• Patch credits "a string of blockbuster movies and television hits," including The Walking Dead, with improving comic book sales.
• Rolling Stone talks to Norman Reedus about appearing in Lady Gaga's new "Judas" video.
• Norman Reedus appeared at Texas Frightmare Weekend, signing autographs with his co-stars from The Boondock Saints, Sean Patrick Flanery and David Della Rocco, according to Examiner.com.
Read More