Press
Ad Age Calls The Walking Dead a Bona Fide Hit;TV Guide Quotes Kirkman On Shane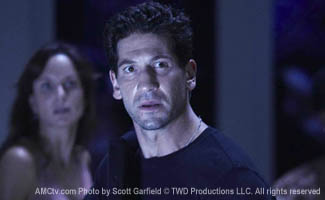 This week AMC comes in fourth on Ad Age's Entertainment A-List thanks to The Walking Dead's ratings, while Robert Kirkman discusses Shane with TV Guide and Andrew Lincoln talks to IGN about Season 2.
• AMC lands at No. 4 on Ad Age's Entertainment A-List, which cites The Walking Dead as the network's first "bona fide hit."
• Robert Kirkman talks to TV Guide about Shane surviving on the TV show but not the comic: "We're adapting stuff directly from the comic book," he says, "but Shane is going to screw it up."
• IGN has a video interview with Andrew Lincoln, who says of Season 2, "We're going to honor the structure and the tone of the graphic novels, so we'll be going to the countryside."
• Variety reports that Frank Darabont will be honored with the George Pal Memorial award at next month's Saturn Awards. (No Link) Darabont has "successfully transcended the horror genre and created a gripping and powerful series," the announcement's press release says.
• A New York Times article quotes a media analyst who calls The Walking Dead "a metaphor for our fears."
• The Irish Independent says of The Walking Dead, which debuts on Ireland's RTE next week, "How ironic that a programme about dead people should be one of the liveliest things on television."
• BuddyTV culls The Walking Dead's lessons in surviving a zombie apocalypse: "Television zombies are overachievers who routinely ignore passive coma patients in favor of the physically fit. If you don't have a convenient coma available, try to nap a lot."
• Patch puts a zombie apocalypse on its list of "some fictional apocalypses that I wouldn't mind living through."
• Examiner.com has a gallery of The Walking Dead's behind-the-scenes photos to tide fans over, since "waiting for the second season… is almost torturous at times and it's only May."
• Deadline reports that Gale Anne Hurd's Port Royal TV project will be developed for FX Prods in the U.S. and Fox International Channels abroad.
• Twitch highlights director Stephen Kay's supernatural thriller Cell 213, which stars Michael Rooker and will be released in the U.S. in July.
Read More