Press
NY Post Names The Walking Dead One of 2011's Best; Kirkman Talks Season 2 With TV Guide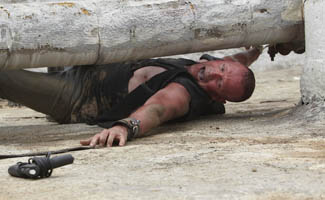 This week the New York Post names The Walking Dead as one of the year's best dramas while Robert Kirkman and Jon Bernthal do the interview rounds.
• The New York Post includes The Walking Dead in its list of the best upcoming dramas of 2011.
• Robert Kirkman tells TV Guide a little bit about Andrea's Season 2 trajectory: "Andrea very much wanted to die in the CDC, so we're going to be dealing with that." Kirkman also chats with SFX about the decision to keep Shane alive: "Just by having Shane exist in this world, there's so many differences and so many cool little things that you wouldn't think of."
• Jon Bernthal talks to SFX about his reaction to zombies: "When people are dressed up like zombies for promotional purposes, and they come up and try to pose with me… I wanna club 'em over the head with something!"
• The CDC advises what to do in case of a zombie apocalypse, including preparing an emergency plan for "where you would go and who you would call if zombies started appearing outside your door step." Reuters reports the post crashed the CDC website.
• SFX reviews The Walking Dead Season 1 DVD, remarking, "What's really impressive about The Walking Dead is its ability to switch gears, from zombie mayhem into more meditative, reflective moments." In its review, the Guardian calls the The Walking Dead a "gutsy adaptation" of the graphic novel.
• io9 puts The Walking Dead on its list of the 10 most frightening TV horror series ever made, calling it "oppressive with the horrific dread it dumps on the viewers."
• Entertainment Weekly has a career recommendation for V's Elizabeth Mitchell: "In my ideal world, Mitchell could get a role on the second season of AMC's The Killing or The Walking Dead."
• New York Magazine says that after The Walking Dead's success, "everything about [AMC] felt a little different."
• Variety writes about the advantages of cable over broadcast TV and cites cable's ability to do fewer episodes per season: "Heck, AMC made a splash with six hours of The Walking Dead." (No Link)
• ESPN mentions The Walking Dead in its prediction that Sunday night TV will benefit from an NFL lockout: "Ratings for shows like The Walking Dead and Dexter will skyrocket. Wow."
• Twitch has a teaser for Hypothermia, a yet-to-be-released film starring Michael Rooker.
• Capsule Computers highlights a video interview of Michael Rooker, who says of starring in the "Call of the Dead" zombie map pack from Call of Duty: Black Ops: "After doing The Walking Dead and then getting the call to do this, I'm walking on a cloud."
Read More