Press
Robert Kirkman Teases Season 2; Gold Derby Reports on The Walking Dead's Emmy Entrants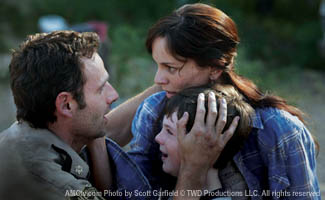 This week Robert Kirkman throws out Season 2 tidbits to publications like The Hollywood Reporter, while Gold Derby has AMC's official list of Emmy entrants from The Walking Dead.
• Robert Kirkman chats with The Hollywood Reporter and confirms that in the Season 2 premiere, "we will definitely see where that caravan [from the CDC] is going and follow them on their journey." Kirkman also talks to Comic Book Resources in a video interview and to A.V. Club, where he reveals that Stan Lee has asked to play a zombie.
• Gold Derby lists The Walking Dead's official Emmy contenders in the acting categories, including Andrew Lincoln for best actor and Sarah Wayne Callies for best actress.
• Norman Reedus talks to Celebuzz, and says of Season 2, "I have some pretty cool hero stuff coming up." Reedus also chats with MTV, explaining his process of "getting back into redneck mode" for Season 2.
• Digital Spy interviews Emma Bell, who explains what it was like knowing her character was going to die: "What I didn't know is exactly in which episode she was going to die, so that was a little bit disconcerting at times." Bell also chats with Den of Geek.
• Shock Till You Drop has details on Michael Rooker's new film Rogue River, including a trailer, artwork and synopsis.
• Entertainment Weekly mentions AMC and The Walking Dead while speculating that a cable channel "willing to take a chance on violent adult fare" will take over a project to adapt Stephen King's Dark Tower.
Read More