What You're Saying About The Walking Dead's Title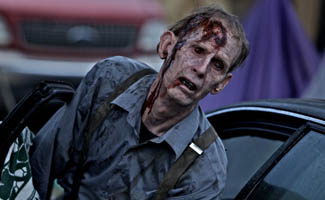 The commenters this week discussed the show's title, The Walking Dead, and whether it refers to the survivors or the undead walkers.
• "I don't think the 'walkers' are the Walking Dead of the title…Thinking about that made me wonder if the living characters are the real walking dead… They are dead, but they just haven't found out yet… 'Dead man walkin'.' And, in a larger sense, aren't we all?" — Jim Adcock
• "The title can be taken in several different ways… Is Frankenstein's Monster an example of the walking dead? I think so." — API_Hyde
• "We're all 'walking dead' as there will come a day for all of us when we die. Also, if it turns out like the comic and everyone is infected, then of course that will also give another meaning to the title. I think a question to be answered is what does it mean to be alive, to be human past the biological classification. What will people chose to do with what life they have left?" — Angela52376
Log onto the Talk forum to join in any of these conversations or start a topic of your own.
Read More