Interviews
Q&A – Jeryl Prescott (Jacqui)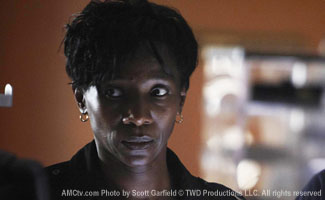 The Walking Dead actress theorizes on Jacqui's final moments and explains how fantasies about Morgan helped her survive the apocalypse as long as she did.
Q: How did you end up on The Walking Dead?
A: I submitted a tape audition. It was really a surprise to get the opportunity to submit. I got a call from my agent and he asked me to get it in by the next day. So I used the skills of my wonderful husband [Laughs] to tape it and we sent it the next morning. Weeks passed. Then one day, I had my kids in the car and we were getting ready to go to a movie and the phone rang. It was my agent and he said, "Frank Darabont says your his first choice for this role." I started screaming and my kids wanted to know what was wrong with me.
Q: At what point did you learn that Jacqui wouldn't survive the finale?
A: With the draft of the final episode. I literally, like the survivors on The Walking Dead, lived day to day not knowing what to expect. One of the crew, Darryl, who does all the explosive stuff, came up to me and said something like, "We told Frank we don't want to kill you." [Laughs] It was more awkward for everyone else than it was for me. Even the director of the episode, I think he too felt a little awkward. I tried to put him at ease. Let's just do our job and move on. It's okay.
Q: You've been in several horror films. What do you think suits you to the genre?
A: It might have something to do with the fact that I'm an actress who comes to it as an older woman. There is something interesting about a face that has lived. When we had a couple days off, I played tennis and ended up getting hit in the face with a tennis racket. I showed up on set with a nice little scar. The make-up people wanted to know — do we want to try to hide it? We decided she's been in a zombie apocalypse; it's okay if she's got a scar on her face. I love roles where it's not about being perfect or being beautiful, where there is more of an interest in what's going on inside the character.
Q: What did you learn about surviving an apocalypse from playing Jacqui?
A: You have to form new relationships. Even though she was a part of the group and cared about the group, she didn't have anybody to give her a sense of starting anew. There's research that people live longer when they have social relationships to keep that part of their hearts alive. I have this fantasy that Morgan came to rescue me and then he and I could raise his adorable son. That's the kind of thing that keeps you alive.
Q: Jacqui knows a lot about city sewer systems. Do you have any surprising areas of expertise?
A: When I went to school, it was to be an electrical engineer. I graduated with a degree in a industrial management and worked in trucking for a couple of years. Then I decided that I was bored with the trucking industry and that I would go back to graduate school. I have a masters in African-American literature and I got a PhD in American Literature. I spent a number of years teaching as a professor in the university system. Then I turned forty and decided I was going to be the woman I wanted to be! [Laughs] As Emily Dickinson, one of my favorite poets wrote, "All but death can be adjusted." If you don't like some choice you made, change it.
Q: What about Jacqui's choice to stay at the CDC? Do you think you could do what she did?
A: I would love to think that I would have that kind of core certainty, that sense of clarity about myself and my life, but I'm not sure that I would. I really considered it to be an honor, going out in a flame of glory like that. And the fact that it wasn't a bite. It had more to do with a larger philosophical consideration of quality of life. Are you really surviving if you can't live free?
Q: Does your whole life flash before your eyes when you're pretending to die?
A: Absolutely. I had to say goodbye to a lot of the people and things that I love about living, because I love life. I've tried to live it in many different ways. I think she felt she had very few choices in front of her. Maybe that is what she found to be unacceptable.
Click here to read an interview with the actor whose character is the last to see Jacqui alive, Noah Emmerich (Dr. Jenner).
Read More