Uncategorized
The Walking Dead Cast on How to Survive the Zombie Apocalypse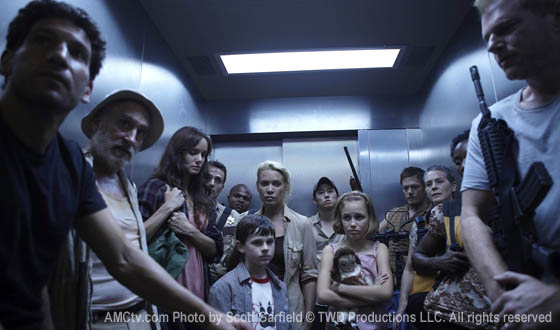 Surviving every day life can be a chore under the best of circumstances. Surviving the zombie apocalypse? Well… Weapons are at a premium, consumable resources are scarce and finding the will to face down the undead can be as challenging as finding your next meal. But don't take our word for it: Listen to the cast of The Walking Dead, who have experienced the apocalypse first-hand and lived long enough to share some survival tips.
PREPAREDNESS

Sarah Wayne Callies (Lori): "My husband's family is military. Preparation is just, from that family perspective, it's just a part of what makes sense to do. I've got a go bag. It's a backpack that's ready in the closet at all times for whatever. So that's all packed."

Jon Bernthal (Shane): "I think I could bash a zombie's head in better than anyone else. I could live in the woods pretty well. I've done that before. We're actors — we'd all pretty much suck, but I think I would suck the least."

Steven Yeun (Glenn): "I could be a scavenger. I'm a huge pack rat — I have my yearbook from first grade or kindergarten, and it's with me even though I'm from Michigan. I have stuff that I can't part with."

Andrew Lincoln (Rick): "I hope to remember my family [in the event of an apocalypse] but I think it is funny because it's a refugee situation, isn't it? I think that you realize it's food, it's warmth, it's the most basic needs because everything else becomes incidental. So yeah, my tennis racket, [laughs] my swimming trunks (just in case we had a zombie pool in the neighborhood), and … a gun."
---
WEAPONS

Lennie James (Morgan): "I liked the rifle. I think it's clean, I think it gets the job done and you don't have to get too close so you don't get splattered in blood."

Andrew Rothenberg (Jim): "I would get [the walkers] to chill out with just a bit of talk. Help them understand our side of the situation; get them to smile a little bit. That will break it up for a moment and give us a chance to get away or bash them over the head with a bat."

Norman Reedus (Daryl): "I love the crossbow. I mean it's just fun. Guns are fun, I can't deny that shooting guns in movies isn't fun. But I had never used a crossbow before, and it's pretty rad. The only thing is that you got to reload quickly. What I need is one of those automatic crossbows if they even make those."
Jeffrey DeMunn (Dale): "Twelve Gauge! If I could use any weapon that's the one I would probably grab. I am [also] definitely in favor of the axe."

Norman Reedus (Daryl): "Two axes! Take out a walker with two axes!"
---
FOOD

Chandler Riggs (Carl): "The catering [on-set]? That was the best food we have ever tasted. They had the desserts — chocolate chip cookies and chocolate cake. It was so good. All for free, too. It was amazing. I [also] ate salad. Kind of even it out a little bit."

Norman Reedus (Daryl): "I live in New York. We just got rats here, no squirrels. I did this film in China where we shot on top of the Great Wall. I remember for dinner during the weekend they made this huge feast: We had one plate of frogs that were standing upright. The next dish was slugs, just moving with all these sauces. Then the next dish was a giant snake that was coiled and the head was chopped off."

Lennie James (Morgan): "Beans… Make sure you cook them all the way through and use a little bit of paprika."
---
SURVIVAL

Michael Rooker (Merle): "You do what you got to do, simple as that. You're in a situation and it's life and death. It happens all the time, people surviving these crazy situations. You do what you got to do to survive."

Lennie James (Morgan): "I hope that I am smart enough and brave enough to hold on to being a non-zombie as long as humanly possible. I'm not sure I'm that smart, but I think I would do everything possible."

Steven Yeun (Glenn): "Whatever I lack in size and strength and speed, I kind of make up for in being grittier. When it comes to something like basketball I'm definitely not the best guy on the court, but I love elbowing and pushing people out or boxing them out. I don't know. That's where I get my joy. [Laughs]"

Noah Emmerich (Dr. Jenner): "I would love to think that I would be valiant and heroic, but we don't really know that in life until we get there. And we're fools to think that we could predict."
Melissa McBride (Carol): "Find a diversion… Ironing is a great diversion!"
Got your own survival tip? Share it in the comments section below. Newsletter subscribers who comment using their registered AMCtv.com accounts will be entered in a random drawing to receive a copy of The Walking Dead Season 1 on DVD. Not yet a subscriber? Click here to sign up.
Read More