What You're Saying About Amy's Mermaid Necklace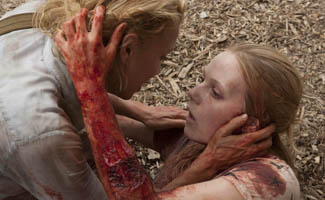 The commenters this week theorized on the significance of the mermaid necklace that Andrea gave to Amy for her birthday.
• "They show the [mermaid] necklace clearly when Andrea is looking at it in the store, when she shows it to Dale and when she puts it on Amy's neck before she reanimates. Then Jim says something about Amy swimming when he's talking about the boat." — Angela52376
• "A mermaid is a mythological being that is half human and half sea creature. Amy is the one of two humans we see reanimate from a dead human corpse to a Walker… Amy reanimates on her birthday just after the mermaid necklace is placed around her neck by Andrea… I took Jim's remark of Amy swimming in the water as a reference to her being a Walker (a dead one) and not human any longer." — Dee
• "I'm convinced though that the Noah ['s Ark]-Mermaid connection is what [Frank] Darabont was trying to whisper to the viewers." — API_Hyde
Log onto the Talk forum to join in any of these conversations or start a topic of your own.
Read More