What You're Saying About Surviving the Zombie Apocalypse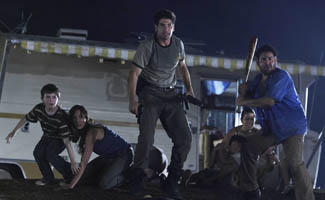 The commenters this week pondered the possibilities of a zombie apocalypse, and shared their survival tips should one actually occur.
• "Explosives. I like to get the biggest bang, pun intended. I also have to think that electric fences would be beneficial in a zombie apocalypse. Do we know if zombies can swim?" — Craig M.
• "Samurai sword and shotgun baby!" — Jennifer Fitch
• "Ideally I would choose a sawed-off shotgun for the hip and prolly minigun over the shoulder for larger crowds. A couple thin blades would be helpful for tossing from a distance or close combat!" — FueledBlack
• "Stock up on an upper floor. Destroy/remove the stairs to the upper floor and use removable ladders to access your hideaway." — Joe
• "I don't think I would be much help in this situation… I'd be freaking out crying and making a total jerk of myself… Needless to say, I wouldn't last long." — Cheeriobowls
• "I think I would feel fairly safe with a Blowtorch and a Flamethrower. Also if we could surround our living quarters with deep ditches for the Zombies to fall into (because they are really stupid and they don't look where they're going) and then we could just blast them!" — Sondra Carr
Log onto the Talk forum to join in any of these conversations or start a topic of your own.
Read More