What You're Saying About Your Favorite Season 1 Scenes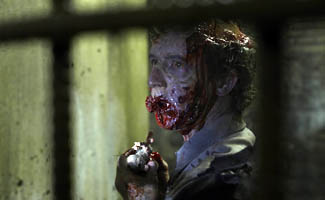 The commenters this week discussed their favorite moments from Season 1, many of which featured a healthy amount of gore.
• "In 'Vatos,' nominees might be 'Hands down' (yes it's a pun) the scene where Daryl drops Merle's hand in Miguel's lap and says, 'Start with the feet this time.' [Also] Amy's scene where she segues so abruptly from lack of toilet paper to lack of a heartbeat." — API_Hyde
• "I love when Daryl happens upon the severed Zombie head that had been munching on his venison. He shoots it in the eye with an arrow & exclaims 'Don't ya'll know nothin'?'" — heartriot
• "The rat eating WD in the sewer!! How elegant when he reaches thru the bars and screams/roars!!!" — Richard Morton
Log onto the Talk forum to join in any of these conversations or start a topic of your own.
Read More