Press
King Talks The Walking Dead With EW; Kirkman Talks Comic-Con With Publishers Weekly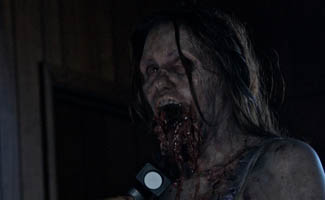 This week, rumors of Stephen King's involvement with The Walking Dead stir excitement in various publications, while Robert Kirkman talks to Publishers Weekly about what he'd like to see at this year's San Diego Comic-Con.
• Stephen King tells Entertainment Weekly he's in talks to co-write an episode of The Walking Dead with his son, novelist Joe Hill, remarking that Frank Darabont "has expressed enthusiastic interest for Season 2 or possibly 3." Laurie Holden first floated the rumor when she appeared with Jon Bernthal at Chicago's C2E2. IGN and ScreenRant (which has video) covered the panel.
• The Daily BLAM! talks to Jon Bernthal and Laurie Holden after the C2E2 panel and learns about Bernthal's upcoming movie (Oren Moverman's Rampart) and how Holden brought her own experiences to the portrayal of Andrea.
• Robert Kirkman chats with PW Comics Week about his various projects, meeting Quentin Tarantino and his hopes that a "3-story zombie" will be at San Diego Comic-Con this year.
• TV Squad points to The Walking Dead in its argument that AMC "has become a breeding ground for high-quality drama."
• The Newark Star-Ledger reviews The Walking Dead Season 1 Blu-ray/DVD set, calling the series "engrossing, thrilling and peppered with plenty of 'Oh, gnarly!' horror-movie moments." BuzzFocus.com says "the Blu-ray release deserves a place in your library."
• Rentrak says The Walking Dead: The Complete First Season Blu-ray/DVD set came in at No. 9 on the U.S. DVD sales chart for the week ending March 20.
• Laurie Holden talks hockey with the Chicago Sun-Times, revealing herself to be a fan of both the Los Angeles Kings and the Chicago Blackhawks.
• Scott Weiland of the Stone Temple Pilots tells the Sydney Morning Herald he watches The Walking Dead (and Fox's Fringe) on his iPad while on tour.
• The Hollywood Reporter says Gale Anne Hurd will appear on a panel about the growing transmedia movement at the 2011 NAB Show in Las Vegas next month.
• Movieweb.com reports that you can catch Robert Kirkman in person next month at WonderCon 2011 in San Francisco; he'll be at a panel focusing on his work.
• Zimbio has a photo of Robert Kirkman and Jon Bernthal at the premiere of AMC's newest series, The Killing, earlier this week in Los Angeles.
• Co-Optimus reports that The Walking Dead composer Bear McCreary is creating the music for the SOCOM 4: US Navy Seals video game.
Read More