Press
Cast and Crew Talk Season 2 at PaleyFest; USA Today on Kirkman's New Comic Book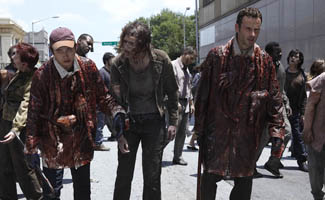 This week reports from The Walking Dead Panel at Paleyfest emerge with cast and crew talking Season 2 details, while USA Today reports on Robert Kirkman's newest comic book project, The Infinite.
• The Walking Dead panel at PaleyFest generates lots of attention from press outlets: The Hollywood Reporter notes that Robert Kirkman unequivocally stated he'll never explain the origin of the zombie outbreak. Entertainment Weekly reports the show will continue to stray from the graphic novel at times, since Kirkman said his canon "is not law." What did Jenner whisper to Rick in the season finale? E! Online has Robert Kirkman revealing the audience won't have to wait long to find out. Andrew Lincoln apparently knows but tells TV Line, "Even my wife doesn't know."
• More on PaleyFest from TV Overmind, HitFix, Dread Central, IGN, TV Squad, TV Fanatic, FEARnet, The Wrap, Zap2it, Screen Rant and LA Weekly.
• USA Today reports on Robert Kirkman entering the world of scifi with his new comic book The Infinite, about a soldier who seeks out his younger self to try and defeat a villain.
• USA Today dubs the Season 1 DVD the "Release o' the week." Newsday says the series took "zombie action from the fringe to the mainstream." Bloody Disgusting calls it a "must-own set for fans of the show," while IGN declares simply, "Prepare for a zombie invasion in your living room." Other Blu-ray/DVD reviews appeared in The Salt Lake Tribune, NewsOK, DVDTOWN, WhatDVD.Net, Zap2it, the Kansas City Star and Collider.com.
• After a screening last week attended by Frank Darabont, Gale Anne Hurd, Robert Kirkman and several cast members, FEARnet says of Episode 3, "I forgot just how powerful the opening sequence is. Michael Rooker is riveting as a delirious, dehydrated and thoroughly desperate Merle Dixon."
• Fancast speaks with Gale Anne Hurd, who gives hope to Jim 'shippers, saying, "Jim has not been shot in the head yet, so you never know." Hurd also talks to Give Me My Remote along with Robert Kirkman about Hershel's farm in Season 2.
• Andrew Lincoln chats with Zap2it (as does Jon Bernthal), Dread Central and the U.K. Press Association and Hollywood Outbreak.
• LAist has video interviews from PaleyFest with Sarah Wayne Callies, Jon Bernthal, Steven Yeun, Emma Bell and Laurie Holden.
• Robert Kirkman talks with MTV about why he thought the CDC storyline was a "perfect" way to end Season 1 and jokes that he's pulling for Ed O'Neill to play Michonne.
• Kirkman also talks to MTV about The Walking Dead video game, though details continue to be scarce.
• ComicBookMovie.com lists the ten things The Walking Dead actors want to see for their characters, including Steven Yeun hoping that Natalie Portman will be cast as his love interest.
• Appearing on This Week in Horror is Jon Bernthal, who brought his dogs to the set so that he wouldn't give away too many Season 2 spoilers.
• Jeryl Prescott (Jacqui) chats with Fangoria about her character, created by Frank Darabont: "Jacqui is unique among women and among a lot of African-American women that I would get to play."
• The Atlantic mentions The Walking Dead in a story about the heightened cultural profile for zombies, calling the series, "a triumphant return to zombie orthodoxy, to the non-galloping zombie and his icons."
• The Los Angeles Times mentions Andrew Lincoln's "lone-lawman-on-horseback" in an article about the 21st century Hollywood western.
• The Hollywood Reporter says Gale Anne Hurd has her next project: Valhalla Motion Pictures will develop and produce a film called The Nameless, about a Federal Witness Protection facility fighting off a team of assassins.
• If you miss Emma Bell, Deadline Hollywood reports she's been cast in NBC's drama pilot Reconstruction as "a strong-willed woman."
• Minyanville thinks The Walking Dead wouldn't get produced during a bull market because of "the relationship between social mood and the horror genre in general."
• Film School Rejects presents a drinking game to be played while watching The Walking Dead. One rule: Take a drink when "A minute of screen time passes without a zombie."
Read More