Press
Kirkman Teases Season 2 With EW; Hurd Talks TV's New Golden Age in Brand X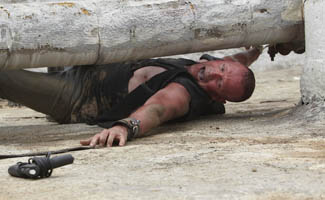 This week Robert Kirkman talks Season 2 details, the upcoming Season 1 DVD release and The Walking Dead video game with Entertainment Weekly, while Gale Anne Hurd discusses TV and zombies with Brand X Daily.
• Robert Kirkman reveals to Entertainment Weekly that Hershel's farm will be featured in Season 2, noting "we're going to mainly focus on breaking new ground."
• Gale Anne Hurd chats with the Los Angeles Times' Brand X Daily about a new golden age of television: "When you've got people like Frank Darabont and Martin Scorsese creating television, it shows that there's a huge shift."
• Frank Darabont speaks to USA Today about the appeal of working in TV: "There's a pace and immediacy to it that I have found tremendously exhilarating."
• Monsters and Critics highlights the Season 1 marathon, saying the show has "raised the bar 100% for any future horror genre smallscreen effort." The New York Post, Spinoff Online, Fangoria, Dread Central, BuzzFocus.com, TV Squad, Cinema Blend and Rabid Doll also mention the marathon.
• A GQ take on zombies says that "flesh-eating ghouls" have "finally gotten the epic TV showcase they deserve" in The Walking Dead. (No Link)
• Entertainment Weekly suggests the movie business fix itself by hiring the best TV writers, asking, "Have you seen a horror movie that was as much creepy fun as AMC's zombie series The Walking Dead?" (No Link)
• Highlighting the DVD release of The Walking Dead, the Wall Street Journal says, "AMC's zombie hit is not afraid to make the audience squirm." MTV, TV Squad and Dread Central highlight clips from the DVD's Special Features.
• Blu-rayDefinition.com calls The Walking Dead Season 1 Blu-ray set "mighty fine" in its review, hailing the series as "the best thing to grace the small screen since Joss Whedon's Firefly." TheHDRoom's review says it's "right on-par with the effort Frank Darabont and his team have put into the show. I promise you won't be let down by either."
• Adweek mentions The Walking Dead in its report on the rise in cable TV ad sales revenue.
• If you're in Dallas at the end of April, check out Texas Frightmare Weekend, which will feature an appearance by Norman Reedus, according to D Magazine.
• Nigeria's Daily Sun discusses the yet-to-be-released film Black Gold, a "powerful story of greed, murder and corruption within Nigeria's war-torn Niger Delta" that counts Sarah Wayne Callies as one of its stars.
Read More