Interviews
Q&A – Melissa McBride (Carol)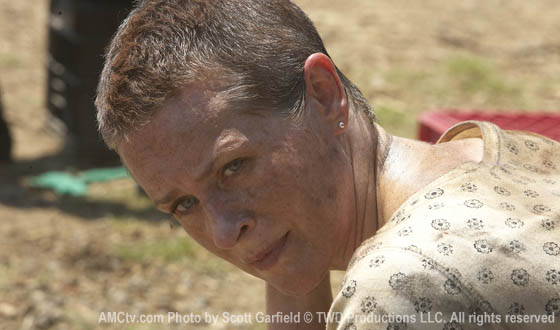 The casting director-turned-actress describes what she has in common with Carol and explains how Home Shopping Channel fantasies helped her laugh between takes.
Q: Were you surprised to find your character ironing clothes during a zombie apocalypse?
A: Kind of quirky isn't it? [Laughs] Oh Carol. She's ironing with one of those old timey irons that you put on something hot and carry over to the clothes real quick. That was unusual but I think she's a people-pleaser, and she likes things orderly because if it's not there's a price to pay. And, as odd as it is, doing something normal is a way to escape what's happening.
Q: Do you iron your own clothes?
A: No. Um [Laughs] no.
Q: What do you and Carol have in common?
A: The caring about other people. I've gotten myself into some difficult situations because I couldn't say no. Actually, I've gotten myself into some difficult places because I thought I could fix somebody. She can intellectualize exactly what's going on, what it's doing to her family, but getting the courage to stop it is difficult. You know what's interesting? Maybe before this she was scheming to get away from him. How horrible if she was ready to do that, to grab that moment, and then this happened. And now you have to hold on to what you have for survival.
Q: With all that's going on with Carol, were you you able to let yourself laugh when the cameras stopped rolling?
A: We had a blast. I loved the wardrobe for Carol. It was awful. [Laughs] But it was really great for her. I decided she got her pants on one of the home shopping channels because she can't get out of the house much; Ed's always looking over her back. Anyway, she got the tan, she got the brown, and they threw in the blue. You buy two, you get a third pair free. Cause they were all the same pant except a different color.
Q: You had a small but poignant part on The Mist. Were you surprised that Frank Darabont remembered you when it came time to do this?
A: I never saw The Walking Dead coming. I'd been working as a casting director. (I was acting full time, always living in Atlanta, and just decided ten, eleven years ago that I wanted to try something different.) I took just a couple of parts, The Mist being one of them, because it was Frank. When I wrapped, he thanked me and I thanked him and that was it. Cut to three years later, I'm standing in the casting office and I get a phone call from my agent saying, "Frank Darabont is shooting The Walking Dead in Atlanta and has a part for you if you want it." I was like, "What? Where did that come from?" He is the man of great surprises in my life.
Q: What did you say when you saw him on The Walking Dead?
A: He didn't direct any of the episodes that I was in, and I didn't even see him until sometime near the end of shooting. I turn around and there's Frank! And again I go up to him, I'm like, "Thank you so much for this." He was like, "This is so great that you're here." Then I turn around and turn back and he's gone. Who is this man?
Q: And now, is there any looking back? Are you still doing casting?
A: I'm not. I'm looking forward. There's no looking back. Not to say I may not return, but it really has turned things around. I'm just seeing how things unfold. That's kind of how I live anyway, sort of "Don't force what's not, and don't deny what is" kind of thing. I'm just having a great time and I cannot wait for Season 2 to see what happens to these people.
Q: What would you like to see happen with Carol in Season 2?
A: She's untethered from Ed now — this thing that held her back. She's free. But in this world that is so messed up. What a horrible time to begin living your life. So I'm really interested to see how that is going to play on her psyche.
Q: Any tips for surviving the Apocalypse?
A: Ironing is a great diversion from the reality you don't want to face. [Laughs] So find a diversion.
Click here to read zombie apocalypse survival tips from McBride and the rest of The Walking Dead cast.

Read More