What You're Saying About Romero's Influence On The Walking Dead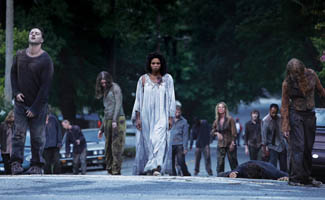 The commenters this week reflected on Frank Darabont's assertion that George Romero's Night of the Living Dead is the "Book of Genesis" for The Walking Dead, wondering about the various ways Darabont paid homage to the film.
• "I did get the feeling that the first 'walker' that Rick sees (not the bicycle girl, as she isn't walking ) while Rick is sitting in front of his house seems like it came straight out of the Night of the Living Dead film — all dressed in black and white and even in its walk. Seems to me like a nice homage to Romero." — SK
• "My initial clue pulling me down the rabbit hole was the clock in Rick's room, and my take on it as meaning Genesis 2:17… I [also] really like the first Huey Rick stops at, with its TWO crossed swords and the 1 above the 7." — API_Hyde
• "I was too young to connect the dots at the time I first saw [Night of the Living Dead] yet, even then I knew I was watching something that broke the rules as I knew them… I continue to look at TWD for many of those hidden and not so hidden commentaries about our society and culture." — Quirkydi
Log onto the Talk forum to join in any of these conversations or start a topic of your own.
Read More