What You're Saying About Your Hopes For Season 2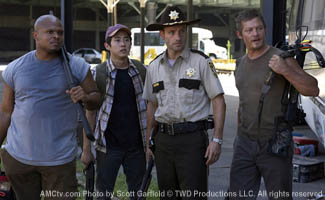 Even with The Walking Dead marathon encore presentations coming up on Tue., Jan. 18 and Wed., Jan. 19, the show's fans are still buzzing this week about what they'd like to see happen in Season 2 — from revisiting certain characters to following the narrative of the comic book.
• "Shane should get either shot in the arm or bitten, not severely. Bitten on the arm or leg." — bellastylemusings
• "'Vatos' was my second favorite episode. What happens when the elderly die from natural causes? I was really invested in the characters and hope the show revisits them at some point…" — Quirkydi
• "I've been thinking a lot lately about the relationship between Andrea and Dale. There's no certainty that the show will follow what happens in the [graphic novel] but I have the feeling that it will, and I hope it does too." — Rob
Log onto the Talk forum to join in this conversation or start a topic of your own.
Read More