Press
The Walking Dead Tops Salt Lake Tribune, Digital Spy Lists; Andrew Lincoln Is "Breakout Star"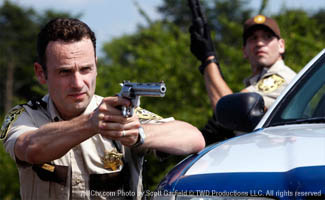 Another week brings more lists ranking The Walking Dead as the TV show of the year, the series pilot gets high marks from TV Guide, and Andrew Lincoln receives kudos as a breakout star.
• The Walking Dead tops the Salt Lake Tribune's list of last year's best TV shows: "This six-episode series is at the top of this list because it's good, but also because it was so out of the ordinary." Digital Spy also put the drama at No. 1, noting the series was "smart, genuinely moving and stunning to look at."
• TV Guide ranks "Days Gone Bye" No. 4 on its list of the year's best episodes, praising the pilot for focusing "on the hearts of the living characters rather than the brainlust of the undead ones."
• Andrew Lincoln is praised as a breakout star by the Kansas City Star: he's "held his own against a growing army of the undead in a role that requires him to be an iconic American hero."
• Ranking at number eight on the Seattle Times's best of list, the show is credited with creating a "believable, grounded post-apocalyptic world." The Houston Chronicle places The Walking Dead at number ten, and calls the series "one of the most exciting additions to television this year."
• The Los Angeles Times believes the inclusion of The Walking Dead as a Golden Globe nominee "will give it more credibility."
• Discussing how TV looks more cinematic now, Variety cites The Walking Dead (and other shows) for "luring the likes of Martin Scorsese and Frank Darabont to direct."
• New York Magazine reports that Gale Anne Hurd talked at the CES tradeshow about having to resist product placement for The Walking Dead.
• Let the members of the Hollywood Foreign Press Association know how much you want The Walking Dead to win on the Golden Globe Facebook page.
Read More