What You're Saying About Jim's Death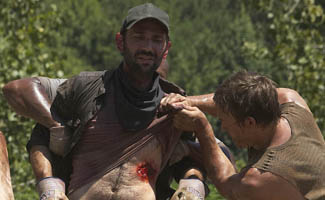 The commenters this week discussed how much they liked the character of Jim, and how sorry they were to see him go.
• "Ahhhh, Jim was my favorite character. I was so bummed out when he got bit, I wanted him to go on with the rest and find some way to hang in there… I wish the writers would write him back in, maybe make him immune or something (I know, wishful thinking)." — Michelle B.
• "Jim was one of my faves in both the comic and the show. It was both heartbreaking and awe-inspiring to watch [him] go." — Joshua Hedge
• "I love how close [actor] Andrew [Rothenberg] and Jim look in the comic. He is not only a great actor, but a perfect match for Jim!" — stitchedxzombie
Log onto the Talk forum to join in any of these conversations or start a topic of your own.
Read More