What You're Saying About the Helicopter in Atlanta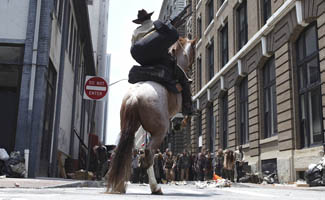 The commenters this week revisited the helicopter that Rick saw while riding horseback in Atlanta, and wondered whether it will reappear in Season 2.
• "I hope that the helicopter was a teaser for something yet to come…" — Rob
• "I believe the helicopter was a Chekhov's gun, like the grenade. I'm certain it will come up later and it might not be attached to good news." — API_Hyde
• "It didn't appear to be military. Assuming some government entity still exists, what would they be looking for in Atlanta?… Unless you postulate a sort of Mad Max world where a crazy dude flies around without purpose." — Richard Morton
Log onto the Talk forum to join in any of these conversations or start a topic of your own.
Read More