Spread Christmas Fear With The Walking Dead Holiday Gifts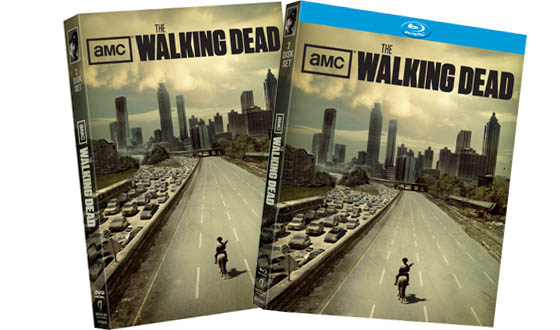 Sometimes the holidays arrive without warning — much like an undead outbreak. What's more, buying presents for fanboys and fangirls can be as dangerous as a minefield: avoiding Wars items for Trekkies; gifting a collectible someone already owns; mistaking zombie love for vampire lust. But not to worry. Here are some last-minute The Walking Dead stocking stuffer ideas sure to please fans of all stripes.
For the Watching Dead: Season 1 DVD and Blu-Ray Sets
The first season of The Walking Dead will be released on DVD and Blu-Ray Mar. 8, 2011. Not in time for Christmas, sadly, but why not surprise the zombie fan in your life by pre-ordering a set on Amazon.com? Sure, there's not much to wrap, but like the scent of human flesh, a printed invoice lets your loved one know a full meal is on the way.
For the Ultimate Collector: The Walking Dead Autographed Drew Struzan Poster
The artist responsible for every Star Wars and Indiana Jones movie poster has struck again with this Limited Edition The Walking Dead graphic masterpiece. The full-color, 27×40 high-quality print is signed by Struzan himself — a must for any avid collector. (And if you're budget's tight, a miniature version of the poster is available in sticker form.)
For the Aspiring Zombie Hunter: The Walking Dead Shooting Target Posters
Everyone knows the importance of preparing for the apocalypse. But did you know that you and your friends and family can train using The Walking Dead's four shooting target posters? Each print is illustrated by a different artist, and may help turn common civilians into zombie sharpshooters. (Click here to see the posters up close.)
For the Undead Gearhead: The Walking Dead Keychains
Who doesn't fantasize about driving Glenn's red Dodge Charger? While that might be out of your price range, you can probably afford The Walking Dead keychains which feature a Drew Struzan poster and a stylized treatment of the "Don't Open Dead Inside" hospital doors from Episode 1.
For the SciFi Style Guru: The Walking Dead T-Shirts
Fans are hereby discouraged from wearing their hearts on their sleeves: That would only attract walkers! So if you're looking for a sensible way to proclaim your zombie passion, consider these t-shirts displaying either the Season 1 poster within The Walking Dead logo, or a trio of the show's undead creatures.
For the Button Brigadeer: The Walking Dead Pin Set Assortment
Some gifts are so adaptable! These buttons can be used by a waiter adding flair to his suspenders or by a college undergrad to liven up her bookbag. Why advertise a smiley face when you can show off a half-eaten one?
Read More