What You're Saying About Rick Surviving the Hospital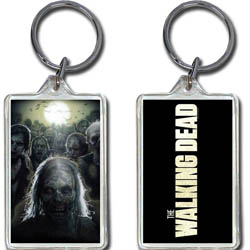 AMCtv.com honors the Talk Forum and Blog commenters by quoting them in the weekly "What You're Saying" post, then awarding those who have commented as registered AMCtv.com users prizes like a The Walking Dead keychain (limit one per person).
The commenters revisited Rick's time in the hospital this week, speculating how the comatose Sheriff was able to avoid getting shot by the military.
• "The soldier looks into Rick's room and sees a man (Rick) with a bandage on who looks like he probably was bitten, and the soldier does nothing?" — minorthreat1
• "My guess is orders were given to eliminate everyone and pull back. The corporal looking into Rick's room didn't have his superior officer looking over him, so he had the option to not shoot Rick and he took it… So basically the corporal defied his orders and saved Rick." — API_Hyde
• "I also thought Rick was very lucky that the military guy that looked in the room didn't just start spraying bullets into him while he lay there in the bed. I explained it to myself that maybe he was planning to ,and then got called away suddenly as the military started getting overrun." — Angela52376
Log onto the Talk forum to join in any of these conversations or start a topic of your own.
Read More