What You're Saying About Daryl and Merle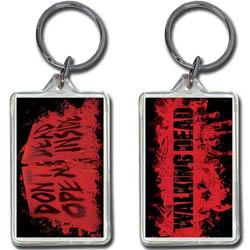 AMCtv.com honors the Talk Forum and Blog commenters by quoting them in the weekly "What You're Saying" post, then awarding those who have commented as registered AMCtv.com users prizes like a The Walking Dead keychain (limit one per person).
The commenters this week discussed Daryl and Merle Dixon — specifically, what might happen when (or if) the brothers ever meet again.
• "Daryl is my favorite character. I think when they do run into Merle, it will be Daryl who defuses the encounter and convinces him that they came back for him." — morganrhae
• "Daryl steps up and protects the group from crazy one-handed Merle. Clash of the redneck titans, WWF backwoods style." — yepa1234
• "Daryl will probably end up siding with the group once Merle starts crap." — minorthreat1
Log onto the Talk forum to join in any of these conversations or to start a topic of your own.
Read More