What You're Saying About Dr. Jenner's Whisper to Rick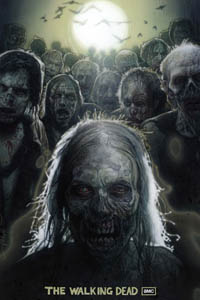 Throughout The Walking Dead Season 1, AMCtv.com honors the Talk Forum and Blog commenters by quoting them in the weekly "What You're Saying" post, then awarding those who have commented as registered AMCtv.com users prizes like a The Walking Dead Drew Struzan poster (limit one per person).
The talk forum this week was awash with theories and predictions about what Dr. Jenner could have told Rick when he whispered in his ear.
• "I think that the doctor told Rick there is a cure, and it has something to do with Rick himself. Remember when the doc took everybody's blood? I bet he found a link between the virus and Rick's blood." — Rick_Grimes_Is_My_Hero
• "I think the doctor whispered to Rick that his wife is pregnant! And definitely it is not Rick's." — mulder24x
• "How's this for what was whispered: 'We let the virus out.' " — honeyD
• "I think the Doc told Rick of a possible place to go, maybe where there are survivors or a cure." — country
• "My fav theory is that someone in the group has a 'mild' case, which could become the basis for a vaccine or resistance to the meningitis-like disease. My guess is that it's the woman [Andrea] who lost her sister and was throwing up in the Finale. That's why it's important that she didn't stay behind." — lkd711
Log onto the Talk forum to join in any of these conversations or to start a The Walking Dead topic of your own.
Read More