What You're Saying About Shane Aiming His Gun at Rick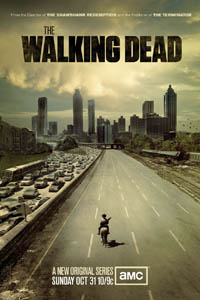 Throughout The Walking Dead Season 1, AMCtv.com honors the Talk Forum and Blog commenters by quoting them in the weekly "What You're Saying" post, then awarding those who have commented as registered AMCtv.com users prizes like a The Walking Dead Season 1 poster (limit one per person).
The viewers commented this week on Shane's moment of rage with Rick in the woods, speculating on the former's motivations and wondering how Dale might factor into the dynamic.
• "The look on Shane's face when he had Rick in his sights was INTENSE! That's some good acting, yesiree." — Rob
• "After he [Shane] fell for Ricks wife it makes perfect sense that he would start to resent Rick… he hesitated for his own selfish means, but deep down he knows he couldn't actually hurt him." — Jenova
• "[Dale] is totally onto Shane. He knows if he hadn't shown up Shane would have taken Rick out. Probably knows about the affair since he was always on lookout. He's gonna be watching Rick's back." — quirkydi
• "I think Shane didn't shoot for a few reasons, but the main reason would be that he would know that Lori would know he did it on purpose. Even if he had accidentally shot Rick, there is no way Lori would believe it." — soni
• "Shane's gone off the deep end!" — Brett
Log onto the Talk forum to join in any of these conversations, discuss Sunday night's Season Finale LIVE or to start a topic of your own..
Read More