Press
EW, THR and LA Times Rank The Walking Dead Among Year's Best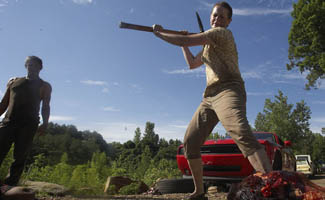 This week The Walking Dead wins end-of-the-year kudos from the entertainment industry's top publications, while Mediaweek praises AMC for the timing of the show's Halloween premiere.
• The Walking Dead places at No. 5 on Entertainment Weekly's "Top 10 Things We Loved This Year": "In a mere six episodes, the first season of AMC's horror hit put most new TV shows to shame." EW also ranks Episode 2, "Guts," at No. 4 on its list of "Our Favorite Episodes of 2010," calling it "the goriest hour of TV ever made." (No Link)
• The Hollywood Reporter lists The Walking Dead at No. 12 on its ranking of the Top 18 TV Shows of 2010, calling it "A genre hit that draws in even non-horror fans because it rattles the bonds of humanity by twisting our moral compass."
• The Los Angeles Times' Best of 2010 list includes The Walking Dead: "Humans either rise or fall when confronted by monsters, and The Walking Dead gave us back real monsters." (No Link)
• The Walking Dead is one of the Tampa Tribune's favorite dramas because it "gave new life to the undead."
• The New York Times compliments The Walking Dead, noting that "few new shows in 2010 were surprisingly good."
• In its year in review, the Dallas Morning News sees zombies defeating vampires, citing AMC for scoring "its biggest ratings for a new series yet with The Walking Dead."
• Mediaweek praises AMC for premiering The Walking Dead on Halloween, "arguably the smartest programming move of the season."
• A shot of The Walking Dead cast is included in Entertainment Weekly's round-up of "The Best Photos of 2010…That You Never Saw," with the photographer noting the actors' "excitement and camaraderie." (No Link)
• The Walking Dead is cited in a New York Times article on whether DVR users watch commercials, mentioning a Toyota Corolla ad that aired during the season "stopped some people from fast-forwarding through the commercial break."
• Deadline Hollywood predicts the success on cable of genre series like The Walking Dead may not translate to the major broadcast networks.
• The PaleyFest 2011 TV festival, taking place Mar. 4-18, will feature a panel with "freshman favorite" The Walking Dead, according to The Hollywood Reporter.
• Multichannel News writes of The Walking Dead, "It was great to see new scripted cable series The Walking Dead… get some recognition" as a nominee for the Golden Globe Awards.
• Mediaweek reports that The Walking Dead was the most-watched original cable series among the core 18-49 demographic, averaging 4.55 million viewers per episode over the course of the show's first season.
Read More