Press
The Walking Dead No. 2 on Stephen King's Best of 2010 List, Episode 5 Nets Highest Ratings Yet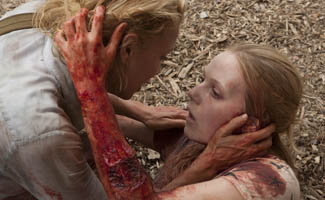 This week Stephen King ranks The Walking Dead at No. 2 on his list of the best TV shows this year, while Newsday gives the Finale an A.
• In Entertainment Weekly, Stephen King puts The Walking Dead at No. 2 on his list of 2010's Best TV shows, saying, "you're talking about that 21st-century rarity, appointment TV." (No Link)
• The Hollywood Reporter says that Episode 5, "Wildfire," pulled in The Walking Dead's best numbers yet, with 5.5 million viewers — beating the show's premiere and up 15 percent from the week before. "We're guessing next week's Season Finale will improve on those numbers," Zap2it adds. The Washington Post asks, "Who knew zombies were perfect Thanksgiving programming?"
• Newsday gives The Walking Dead an A, remarking, "This is how horror on TV should be done."
• The New York Post thinks The Walking Dead, which "burst out of the gate with the best opener of any show in years, has only gotten richer, scarier and more disgusting."
• In the Los Angeles Times, Andrew Lincoln compares The Walking Dead to a Trojan horse: "You go in under the guise of a big old zombie and then we get into people's front rooms and we start making people feel things for these characters."
• Lincoln also talks to the Washington Post about main characters dying off, saying, "I think that's a very brave thing to do, a very brutal thing, but very much befitting of this brave and brutal show we're trying to make."
• The New York Times muses about zombies and their appeal, citing the popularity of The Walking Dead.
• All five episodes of The Walking Dead made this week's chart of the Top 25 shows downloaded from iTunes, including the No. 1 spot for Episode 5, "Wildfire," according to Entertainment Weekly. (No Link)
• The New York Post calls The Walking Dead "my new, guilty pleasure: The zombiechoked streets of Atlanta never looked better." (No Link)
• People includes The Walking Dead Season Finale in its list of 5 Things To Watch This Week. (No Link) Metro New York does the same, lamenting, "One of the year's best new series comes to an end after only six episodes." (No Link)
• Star Magazine includes Rick/Lori/Shane in a feature on romantic TV triangles: "All's fair in love and war — especially in a postapocalyptic world full of zombies!" (No Link)
• Robert Kirkman shares with Entertainment Weekly that Norman Reedus' Daryl Dixon is "one of my favorites on the show and it p–es me off that I can't go back in time and put him in the comic."
• Variety cites AMC as a network that has successfully branched out, with the The Walking Dead's "post-apocalyptic zombie drama" ("hardly a genre that screams compatibility with Mad Men and Breaking Bad") winning a second season.
• The creative breakthroughs in the new TV season have "once again largely come from the cable universe — most notably Boardwalk Empire and The Walking Dead," Variety reports.
• AMC will release Season 1 on DVD and Blu-ray, partnering with home video distributor Anchor Bay Entertainment. (Click here to find out about pre-ordering your own copy.)
• For recaps and reviews of Episode 5, "Wildfire," check out the The Atlantic, CNN, Daemon's TV, FEARnet, HitFix, the Los Angeles Times, MTV, New York Magazine, the Seattle Post-Intelligencer, Time, TV.com, TV Fanatic, TV Squad, Vanity Fair, the Wall Street Journal, the Washington Post and Zap2it.
Read More