What You're Saying About Lori's Love Triangle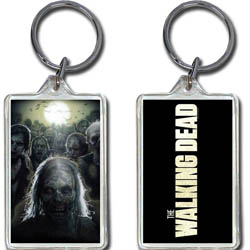 Throughout The Walking Dead Season 1, AMCtv.com honors the Talk Forum and Blog commenters by quoting them in the weekly "What You're Saying" post, then awarding those who have commented as registered AMCtv.com users prizes like The Walking Dead keychains (limit one per person).
The love triangle between Rick, Lori and Shane was a hot topic of discussion for commenters this week, who made predictions about the potential fallout and wondered about Shane's culpability.
• "Regardless of the circumstances, [Rick] couldn't forget that his wife was sleeping with the guy. He might even try to fool himself into believing that everything was the same, but he would still harbor some degree of hatred in his heart for Shane." — timr
• "I think that Lori needs to be honest with Rick about what happened and trust him to handle it and understand it." — Angela 52376
• "The problem with Shane is, even though it's not explained how long Rick was in a coma, you have to at least wait a year to jump on your best friend's wife! In a zombie apocalypse I give you 6 months." — Zkilla23
• "I am happy to admit that I was wrong about Shane Walsh. I thought he was a bad guy for taking up with Lori. But now I am feeling bad for him." — ElizabethMC
• "I am so disappointed that Shane told Lori that her husband died! Soooo messed up for endless reasons." — heartriot
Log onto the Talk forum to join in any of these conversations, discuss Sunday night's all-new episode live or to start a topic of your own.
Read More