What You're Saying About The Walking Dead's Most Gruesome Moments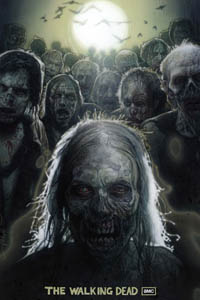 Throughout The Walking Dead Season 1, AMCtv.com honors the Talk forum and blog commenters by quoting them in the weekly "What You're Saying" post, then awarding those who have commented as registered AMCtv.com users prizes like The Walking Dead Drew Struzan posters (limit one per person).
The first episode of The Walking Dead did not shy away from horrific moments, and the commenters loved every one of them. Several remarked on the impact of the shooting of the zombie girl and the death of the horse.
• "This is the first zombie movie that actually brought tears to my eyes a couple of times. But why did they have to kill the horse!" — Horsecam
• "I didn't watch the show just to see a horse get turned into a Zombie Happy Meal, but I do agree that it hammered home that the series isn't going to pull any punches. That and the opening child zombie scene." — Mooplaid
• "As an animal lover, it was a shame to see the horse go down, but in a 'real world' zombie invasion, I imagine NOTHING warm-blooded would be safe. Was the opening scene a shocker (with Rick shooting the little girl)? Hell yes, But it was SUPPOSED to be!" — chrislw47130
• "Loved they started out with the little girl zombie getting shot. Shows they aren't going to… be sensitive just for TV." — Therese
Log onto the Talk forum to join in any of these conversations, discuss Sunday night's all-new episode live, or to start a The Walking Dead topic of your own.
Read More