Press
Wired Is Thankful for The Walking Dead, Ratings Hold for Episode 4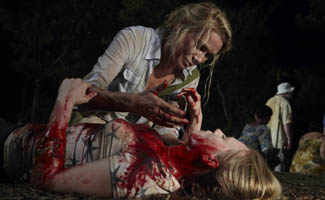 This week Deadline Hollywood discusses the ratings for Episode 4 while Wired gives thanks for The Walking Dead and Entertainment Weekly features the series on its cover.
• Wired is thankful that with "AMC's awesome adaptation of The Walking Dead comic book series, there's finally a zombie story in the mainstream that relies on deeply-drawn characters, not just scaring viewers."
• The Walking Dead lands on Entertainment Weekly's cover, as the magazine asks, "How in the world did a show that begins with a policeman shooting a little (albeit zombified) girl in the head ever make it on to television? And how did it become the hottest new series of the year?"
• Ratings for Episode 4, "Vatos" held relatively steady according to Deadline Hollywood. TV by the Numbers notes that even with a 5 percent drop it "will still easily be the top scripted show on cable for the week with adults 18-49."
• In a story on the challenges posed to HBO by AMC, Salon.com cites Mad Men, Breaking Bad and The Walking Dead as "novelistic series with season-length interlocking narratives."
• UGO compares the events in Episode 4, "Vatos" with the comic book, noting that just like in print, "Amy immediately comes under attack after her pee-break, though the first bite wound claims her arm rather than the neck."
• Andrew Lincoln praises Jeffrey DeMunn (Dale) to MTV, explaininh, "He's a terrific actor. He's a gentleman, one of the nicest guys, but he's got this kind of steel in him, this fierceness as well."
• The Chicago Tribune interviews Steven Yeun (Glenn), who shares that, after getting recognized as Glenn in public, "I got heart complications. I wasn't prepared for it."
• Television Without Pity is excited for Jon Bernthal, who is "going from playing that dopey lovelorn guy on The Class to a big role as a angry law enforcement agent on one of the year's most talked-about programs."
• The Atlantic calls Rick Grimes the "Anti-Don Draper" because he "hasn't had to make any dire moral compromises so far."
• For other recaps and reviews of Episode 4, "Vatos," check out CNN, Daemon's TV, FEARnet, HitFix, the Los Angeles Times, MTV, New York Magazine, the Seattle Post-Intelligencer, Time, TV Squad, the Wall Street Journal and Zap2It.
Read More