Press
Premiere Ratings Best Ever for AMC; Raves from Vanity Fair, The Atlantic and Others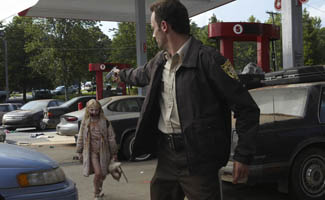 The first episode of The Walking Dead debuted to extremely strong ratings and stellar reviews.
• The series premiere registered over 11.6 million viewers, the largest audience for any AMC original series. As The Hollywood Reporter points out, "mounting buzz on the show ever since its trailer debuted at Comic Con made Walking Dead a must-see among genre fans." The New York Times, New York Magazine and Variety all talk ratings too.
• Rave reviews of The Walking Dead abound: Vanity Fair calls the series premiere "the best new television show of the year." Variety thinks The Walking Dead took "what could be a stale premise and enlivened it in a way that feels unexpectedly fresh." It's "a compelling narrative that knocks you off balance," (Salt Lake Tribune) a "triumph of tone and mood," (Contra Costa Times) "as dark, intelligent, and uncompromising as any of AMC's other dramas," (The Atlantic) "too scary to watch — and too engrossing not to watch," (St. Louis Post-Dispatch) and "irony-free and rooted in emotional reality." (Kansas City Star) The Boston Herald has some simple advice: "Keep the lights on."
• See other reviews, from the Boston Globe, the Chicago Sun-Times, HitFix, The Hollywood Reporter, the Los Angeles Times, NY1, the New York Daily News, the New York Post, the Tampa Tribune, Time, USA Today and the Wall Street Journal.
• The Los Angeles Times declares that Writer/Director/Executive Producer Frank Darabont has created "the first zombie epic, with sprawling storylines, archetypal characters and imagery to rival Gone With the Wind."
• The Washington Post compares The Walking Dead to ABC's Lost, noting the former is "already generating major buzz, tearing up Google search trends, generating conversation on Twitter."
• The New York Times discusses the zombie comeback, citing the "surprisingly scary and remarkably good" The Walking Dead as "one of the most vivid examples of the revival."
• TV Overmind compiles the best tweets of premiere night, such as this one: "Best scene thus far? Character faced w/shooting his undead spouse. Almost had me tearing up."
• E! advises you watch the next episode of The Walking Dead to see "Steven Yeun as pizza-delivery guy Glenn," who "manages to steal all the scenes with his ironic sense of humor."
• In an interview with Zap2It, Writer/Director/Executive Producer Frank Darabont likens Andrew Lincoln to a giant of the silver screen: "When we put him in that costume and that hat, I thought, 'Oh, my God, he's Gary Bloody Cooper!'" The New York Daily News makes the same comparison.
• Talking to USA Today, Andrew Lincoln characterizes The Walking Dead as "a Kafka-esque nightmare. I wanted to make it as truthful and as real to me as possible." Lincoln also reveals to the Los Angeles Daily News why Special FX Make-Up Designer Greg Nicotero is "the Willy Wonka of gore." He tells MTV that his favorite horror movie growing up was The Omen because "it scared the bejeesus out of me."
• TV.com chats with Executive Producer Gale Anne Hurd, who notes, "No one's ever gone as in-depth as we're able to in any kind of zombie series in the United States." She also describes to HitFix the search for Rick Grimes, explaining how Andrew Lincoln "had the glorious chance of auditioning in Frank [Darabont]'s garage."
• Executive Producer/Writer Robert Kirkman tells Entertainment Weekly he wants fans of the graphic novel "to be as surprised by the show as they are by the comic book series." After all, he jokes with the New York Post, it's "very arrogant" of the creator of the source material to "keep it as close as possible to the original."
• Zap2It chats with Laurie Holden (Andrea), who says "I want to play a zombie on the show before it's over."
• The Walking Dead Composer Bear McCreary blogs about writing the main title: "I actually wrote some of the scariest music in the episode for the sequence where she approaches the door and stares through the keyhole." He also talks to MTV about wanting "to create something really catchy."
Read More