Press
The Wall Street Journal and The Hollywood Reporter Heap Praise on The Walking Dead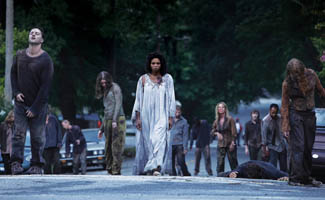 The Wall Street Journal and The Hollywood Reporter praise The Walking Dead premiere episode, while The Wrap believes the drama will alter the landscape of horror TV forever.
• The Wall Street Journal calls The Walking Dead's first episode "so good that it has hooked even a zombie hater like me."
• The Hollywood Reporter says of The Walking Dead: "If you've watched the four-minute trailer, you have an accurate sense of how well-executed this drama is. Fans of the genre are going to love it."
• The Wrap believes The Walking Dead will change the horror genre forever: "The show feels weightier and more real than anything before it."
• MediaBizBloggers lauds the "integrity" of The Walking Dead's artistic vision and the "uncompromised quality" of its storytelling.
• CableFax likes The Walking Dead premiere: "A plus is Brit Andrew Lincoln as the sheriff. Good, too is the social commentary, which blasts racism and marital infidelity." (No Link.)
• The Hollywood Reporter recommends AMC over SyFy on Halloween night: "If you're a sci-fi fan and watching that [network] instead of The Walking Dead on AMC, we're gonna have words."
• It's time to "Dismember the Alamo" as the Texas-based Alamo Drafthouse theater chain marks The Walking Dead premiere with a host of zombie-themed events.
• For a look at AMC's and Fox International's Global Zombie Invasion, check out the compilation video at Deadline Hollywood, which called the stunt "clever." Cynopsis, Multichannel News and Worldscreen all covered the stunt too, while the Washington Post wrote about Walkers being turned away from the Lincoln Memorial: "Yes, the zombies will try to eat your face, but they're law-abiding face-eaters."
Read More